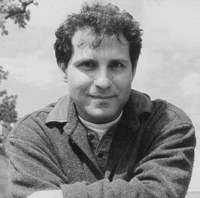 Author Reads from His Work
ARIS JANIGIAN
WEDNESDAY, FEBRUARY 11, 2004
"The week before my father died, he told me a story about how his father had once seen the lost city of Atlantis while he was a sailor in the Turkish navy." So starts
Bloodvine: A Novel
(2003), Aris Janigian's critically acclaimed debut novel that resonates with family struggle, ethnic legacies, and a richly captured sense of place within California's Central Valley.
The Central Valley is home to a large Armenian community, one of the oldest immigrant groups in the Valley, and one which continues to maintain a strong identity there. The Armenians came to America from a world and a way of life that was destroyed by the Ottoman Turks in a genocidal rage that killed over a million people in the beginning of the twentieth century. Even today, few Armenians have not been touched by this tragic episode in their history. Janigian's complex and devastating story of two half-brothers who toil on and are torn apart by the farmland they have inherited unfolds against the background of the genocide. It simultaneously probes what it means be a Californian, an experience long known as one of exploration, discovery, alienation, and acceptance. The
Los Angeles Times
called
Bloodvine
"a large achievement," and hailed its author "a strong, and welcome new voice." Aris Janigian will read from
Bloodvine
and work in progress. A book signing will follow.
Aris Janigian received his Ph.D. in psychology from Claremont Graduate University. Since 1992 he has taught at the Southern California Institute of Architecture, where he is presently senior faculty in humanities. He has published in fields as varied as psychology, poetry, short story, and art and architecture theory. In 2002 his book,
Something from Nothing
, a collaboration with graphic artist April Greiman, was issued by Rotovision (London). Between semesters teaching, he works in Fresno coordinating the harvest of cherries and wine grapes.