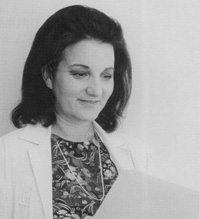 AIDS: A National and Global Concern
ALEXANDRA LEVINE
THURSDAY, FEBRUARY 12, 2004
Last year, 5 million people-14,000 a day- were newly infected with Human Immunodeficiency Virus (HIV), the agent that causes AIDS. Over 3 million people died of the disease. Of the 40 million people currently living with AIDS, some will survive for years, thanks to new drug combinations. But most will not, and the epidemic continues.

Alexandra Levine, M.D., is at the forefront of AIDS research and treatment. As a professor-physician and now the medical director of USC/Morris Cancer Hospital, she was one of the first doctors to show that when HIV attacks the immune system, it makes a patient susceptible to cancers, particularly lymphoma. President Clinton appointed her to his advisory committee on AIDS, where she served as research director. She has consulted governments all over the world in dealing with HIV/AIDS. Her clinical practice emphasizes lymphomas and HIV in women.

A leading cancer researcher, Levine has published over 300 research articles and book chapters. She has won many teaching awards from the medical students at USC. They recently nominated her for the national Humanism in Medicine award for her compassion, ethics and mentoring. A Phi Beta Kappa graduate of UC Berkeley, Dr. Levine received her M.D. From USC and did her clinical training there, as well as at Emory University. She currently holds the Bloom Family Chair in Lymphoma at USC, where she is also Distinguished Professor of Medicine. This lecture is cosponsored by the David E. French Lectureship fund.