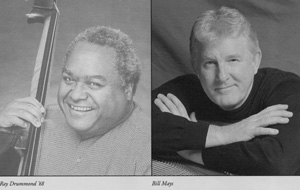 Jazz: America's Classical Music
RAY DRUMMOND '68, bass
BILL MAYS, piano
MONDAY, FEBRUARY 16, 2004
The Ray Drummond and Bill Mays duo One to One are returning to the Athenaeum for a night of intimate musical conversation. Accomplished jazz musicians with lifetimes of experience performing with a virtual who's who of artists all over the world, Drummond and Mays first met in Claremont back in the '60s. Their return presents them with an opportunity to share their music and their life stories with a perspicacious audience in a truly intimate setting. Join them as the Athenaeum continues to celebrate its anniversary by presenting a night of America's classical music-jazz.

Unforgettable musician and CMC alumnus Ray Drummond '68 served as student body president and cofounded the "Jazz Society" with fellow student musicians and jazz enthusiasts while an undergraduate student in Claremont. After graduation Drummond worked as a business executive by day while moonlighting as a jazz musician until he realized that the second career was his true calling. Today he is an internationally acclaimed bassist, composer, and recording artist who has performed with musicians the caliber of Wynton Marsalis, Betty Carter, Woody Shaw, and Art Farmer, to name a few. Drummond's musical talents can be heard on over 100 jazz albums yet he still has found time to conduct, produce, and instruct jazz all over the world. His most recent album, One, Two, Three, Four, featuring solo, duo, trio, and quartet arrangements was released in 1999. Currently he is a professor at the Institute for Music and the Performing Arts at California State University at Monterey Bay.

Bill Mays's eclectic career as a pianist, composer and arranger spans the last 40 years. With deep roots in jazz, gospel, pop and classical music, Bill's artistry defies categorization. He has performed on over 100 recordings, including thirteen of his own. His concert and studio credits include work with artists as diverse as Barry Manilow, Art Pepper, Bud Shank, Frank Sinatra, Vanguard Jazz Orchestra, Sarah Vaughan, and Frank Zappa. Bill's keyboard work has been heard on numerous soundtracks, among them Being John Malkovich (1999), Fargo (1996), Lethal Weapon (0987), Rocky (1976), and Superman (1978). Mays has written numerous compositions and arrangements and is a Steinway Piano Concert Artist. His latest CDs include Mays in Manhattan (1996), Summer Sketches (2001), and Going Home (2002). A native Californian, Bill now resides in New York City and northeastern Pennsylvania.