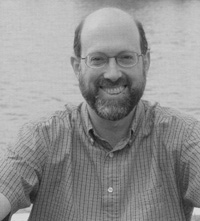 The Ku Klux Klan and the Separation of Church and State
PHILIP HAMBURGER
WEDNESDAY, FEBRUARY 18, 2004
LUNCH 11:45 a.m. LECTURE 12:15 p.m.
Since the founding of our nation, the uniquely American relation of church and state has been a source of both pride and controversy. The debate rages today on many fronts as the legitimacy of faith-based organizations receiving federal funding, the role of religion in public schools, and even the Pledge of Allegiance are disputed questions. The Supreme Court will take up two crucial cases on matters of church and state this term as society continues to wrestle over the meaning of the First Amendment.

What underlies much of the current controversy is the idea that the First Amendment means to sever the relation between religion and government. In 2002 Harvard University Press released Philip Hamburger's significant scholarly work, Separation of Church and State, which challenges the prevailing notion that the First Amendment was designed to separate church and state. His groundbreaking book asserts that the original understanding of the First Amendment changed over the years as various individuals and groups used it in order to divide religion and government.

In his Athenaeum lecture Hamburger will talk about the role of the Ku Klux Klan in advocating the separation of church and state. Among the questions he will consider is why one of the most notorious organizations in American history devoted itself to this principle, and what this can reveal about both the Klan and the separation of church and state.

Philip Hamburger is currently the John P. Wilson Professor of Law at the University of Chicago. He has written numerous articles in the fields of constitutional law and legal history on everything from the nineteenth century theory of contract to natural rights and the early American state constitutions.

Professor Hamburger received his B.A. in history from Princeton University and his J.D. from Yale Law School. After working as an associate for Schnader, Harrison, Segal and Lewis in Philadelphia, he has taught law for close to twenty years at various prestigious institutions, including the University of Connecticut and the George Washington University National Law Center.

Lunch will be served at 11:45 am Professor Hamburger will speak at 12:15 pm.