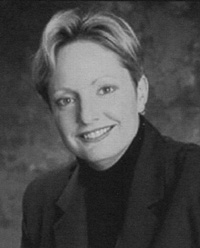 An Awakening Planet: LGBT America on the Edge of History
ELIZABETH BIRCH
MONDAY, FEBRUARY 23, 2004
The Claremont Colleges Queer Resource Center is a seven-college organization providing resources for students, faculty, and staff of all sexual orientations and genders since 1992. The center sponsors a variety of social, political, and educational events each semester, and the office provides a safe space for all visitors. The Athenaeum is pleased to host the QRC's celebration of more than a decade of service to the community and Elizabeth Birch as our honored guest.

Elizabeth Birch served the Human Rights Campaign- the nation's largest lesbian, gay, bisexual and transgender advocacy organization- as its executive director from January 1995 until January 2003. Under her leadership, the institution more than quadrupled its membership to 500,000 and its annual budget grew to more than $20 million. During her tenure, Birch built the organization from grassroots into the modern corporate model with an outstanding senior management team and 100-person staff. As the most prominent voice for LGBT persons, Birch regularly lobbied elected-leaders, made countless media appearances, and was on the front lines of the battle to ensure equality for all Americans, solidifying her position as a bona fide civil rights pioneer. Birch previously served as worldwide director of litigation for Apple Computer Inc. In addition, she has helped various Fortune 500 companies develop and implement non-discrimination and domestic partner benefits policies.

The evening with Elizabeth Birch is sponsored by the CMC Dean of Students with support from the James Irvine Foundation, the Queer Resource Center of the Claremont Colleges, and the Marian Miner Cook Athenaeum. Everyone is cordially invited to this event.