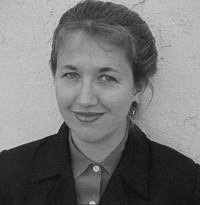 The Two-Income Trap: Why Middle-Class Mothers and Fathers Are Going Broke
AMELIA TYAGI
MONDAY, MARCH 1, 2004
This year more children will live through their parents' bankruptcy than their parents' divorce. Amelia Warren Tyagi, coauthor of The Two Income Trap: Why Middle- Class Mothers and Fathers Are Going Broke (Basic Books, 2003), a policy-oriented book that focuses on the problems facing today's families with children, will address the shocking--and totally unexpected--financial meltdown of America's middle class. She will explain the startling paradox- the "two-income trap"- which shows how committing both mothers' and fathers' incomes to the household budget has made families more vulnerable to financial disaster than ever before.

Tyagi worked as an Engagement Manager at McKinsey & Company, where she led several multimillion-dollar projects in public education, health care, and public policy, working with some of the leading CEOs in America. After leaving McKinsey, she co-founded HealthAllies, a health benefits firm dedicated to bringing more affordable healthcare to working families, which raised nearly $40 million in venture capital. Ms. Tyagi has appeared on CNN, Fox News Channel, National Public Radio, and The Dr. Phil Show, and she has been quoted extensively in Newsweek, Chicago Tribune, and the Christian Science Monitor. She is a regular commentator on Marketplace, the nationally syndicated show from Public Radio International.

Ms. Tyagi graduated magna cum laude and Phi Beta Kappa from Brown University. Her Athenaeum lecture is sponsored by the Berger Institute for Work, Family, and Children.