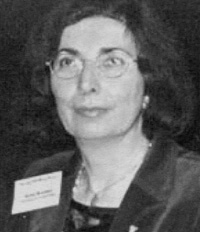 Balancing Transportation, Energy and the Environment
AVIVA BRECHER
TUESDAY, MARCH 9, 2004
Maintaining a healthy, affordable and accessible transportation system is essential to our continued economic vitality and daily lives. Our vast transportation infrastructure network represents a four-trillion-dollar investment, including highways, roadways, bridges, waterways and ports, railroads, transit, airways and airports, as well as pipelines, passenger, freight and intermodal terminals. Increasing demand for transportation services, for both commercial cargo transport and for passenger travel, has taxed existing capacity and led to congestion and delays. The transportation sector consumes almost a third (28%) of our energy fuels, 3/4 of it by highway vehicles. Transportation represents almost 12% of the GDP and 10.5%, as well as contributing to environmental problems, from air pollution and greenhouse gases, to noise. In her Athenaeum lecture, Aviva Brecher will review trends and projections in vehicles and modal energy consumption as well as technology options, which promise to preserve our mobility, while improving energy efficiency and environmental quality.

Aviva Brecher is a senior scientist on transportation safety, health and environmental issues at the Department of Transportation's (DOT) John A. Volpe National Transportation Systems Center in Cambridge, Massachusetts. At Volpe Center Dr. Brecher has worked on a wide range of projects requiring technical expertise in the physical sciences and risk assessment.

Dr. Brecher received her B.S. and M.S. in Physics from MIT in 1968, and a Ph.D. in applied physics from the University of California at San Diego in 1972. Prior to joining DOT in 1987, she worked in academia, business and government on a broad range of interdisciplinary topics. She is listed in Who's Who in American Science and Engineering, in American Women of Science, and has published over 100 professional papers and over 200 conference presentations and technical reports. She is also a former Congressional Science Fellow of the American Physical Society (APS) and a Fellow of the APS.

Aviva Brecher's presentation is part of the series The Environment in Crisis and is sponsored by Sigma Xi, the Andrew W. Mellon Foundation, and the Roberts Environmental Center.