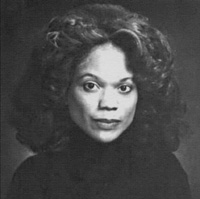 Guaranteeing Community Justice: Making Every Voice Count
CONNIE RICE
WEDNESDAY, MARCH 10, 2004
A vigilant fighter for fairness, Connie Rice is known for her willingness to confront conditions of discrimination and injustice. She is the codirector of Advancement Project, which acts in partnership with communities to advance universal opportunity, equity and access for those left behind in America. The organization's projects include Urban Peace/Policing, which works to reduce violence, restore neighborhoods and demand police accountability, and Opportunity to Learn, a project devoted to extinguishing obstacles and increasing resources for minority schoolchildren.

In 1991, Connie Rice joined the NAACP Legal Defense Fund. A few years later, she assumed the role of codirector of the Defense Fund's Los Angeles office. Since then, Rice has played an important role in the life of Los Angeles. She was appointed to the governing board of the city's Department of Water and Power where she served as president, installing contracting reforms and environmental improvements. In 1999, Connie Rice launched a coalition lawsuit that won $750 million for new school construction in Los Angeles. For all of her achievements the Los Angles Times named her one of twenty-four leaders considered "most experienced, civic-minded, and thoughtful people on the subject of Los Angeles."

In addition to this work, Rice has also appeared on 60 Minutes, Nightline, and The Oprah Winfrey Show. In a life full of titles, her most prized credential is her first-degree black belt in Tae Kwon Do.

Please join us at the Athenaeum to see what is sure to be a passionate presentation by a community-minded woman who continues to strive for equity and change. Connie Rice's visit to the Athenaeum is sponsored by the CMC Dean of Students with support from the James Irvine Foundation and the Marian Miner Cook Athenaeum.