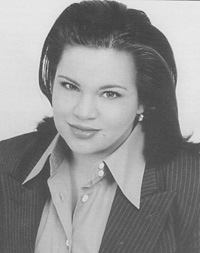 What Does the Hispanic Demographic Hold for American Business?
CHRISTY HAUBEGGER
WEDNESDAY, MARCH 24, 2004
Visionary founder of Latina, the first bilingual magazine targeted exclusively to Hispanic women in the U.S., Christy Haubegger is living proof that when one follows her dreams with unerring passion (and good business sense) she can make waves in the media.

Since the launching Latina in 1996, the magazine has flourished under Haubegger's spirited leadership, growing to a circulation of over 300,000 and awakening advertisers to the fact that the Latino community is America's fastest-growing consumer market. Though Haubegger's idea germinated as a teenager flipping through women's magazines that contained little that related to her as a Mexican-American, the dream blossomed into a real, viable business plan when she took a marketing course while at Stanford Law School. Following graduation she invested her energy in the venture and eventually convinced the publishers of Essence magazine, the largest publication for African-American women, that the media was underserving America's 35 million Hispanics. Building on the success of Latina, Haubegger is currently working with her company, Latina Media Ventures, to provide a long overdue voice in other media that attracts the Hispanic demographic.

As a female entrepreneur and respected leader in the business community, Haubegger has received numerous honors. She was named one of Newsweek 's "Women of the New Century" and profiled by NBC's Tom Brokaw as one of "Ten Most Inspirational Women." A native of Houston, Texas, Haubegger earned a B.A. in philosophy from University of Texas at Austin and a J.D. from Stanford Law School where she served as senior editor of the Stanford Law Review.

Christy Haubegger's appearance at the Athenaeum is part of CMC's Cesar Chavez commemoration and is sponsored by the Harry E. and Lola Monroe Foundation and the CMC Dean of Students with support from the James Irvine Foundation.