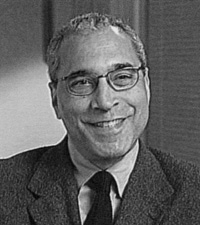 How Race Changed America
SHELBY STEELE P'96
MONDAY, MARCH 29, 2004
Shelby Steele, political commentator, award-winning author, and literary scholar, will deliver the inaugural address in the Ricardo J. Quinones Lectureship series. The lectureship, established in honor of the founding director of the Family of Benjamin Z. Gould Center for Humanistic Studies, will feature prominent intellectuals, writers, and public figures holding forth on a broad range of subjects. Dr. Steele's address is titled, "How Race Changed America."

Professor Steele defies easy categorization or identification by a single epithet, phrase, or title. "I felt a familiar anger rise," Steele recalls in his A Dream Deferred: The Second Betrayal of Black Freedom in America (1999), "when the editor asked me over the phone to write about `the loneliness of a black conservative.' . . . Most people could empty half of any room simply by saying what they truly believe. If, somehow, you come by the black conservative imprimatur, you will likely empty a lot more than half the room before you say what you believe."

Indeed, Steele- whether branded by friends or foes, conservative or liberal, black or white- has had to endure countless misconstructions and prejudgments born of facilely fashioned, imprudent labeling. Yet, from those inclined to listen, Steele has also garnered considerable praise. Of The Content of Our Character: A New Vision of Race in America (1990), the essay collection for which Steele received a National Book Critics Circle Award in 1991, The New York Times enthused, "Steele has given eloquent voice to painful truths that are almost always left unspoken in the nation's circumscribed public discourse on race." Of the grace and vigor of his prose, the Chicago Tribune remarked that "Steele's skill compares with that of James Baldwin, Richard Wright, or Frederick Douglass"; and in Newsweek George Will proclaimed The Content of Our Character to be the best writing on race since Dr. Martin Luther King, Jr. 's Letters From Birmingham Jail (1963).

In 1991 Steele's work on the PBS Frontline documentary "Seven Days in Bensonhurst"- about the racially motivated slaying of Yusef Hawkins- was recognized with an "Emmy" award from the National Academy of Television Arts and Sciences, and with awards from the Writer's Guild and the San Francisco Film Festival for outstanding achievement in television documentary writing.

A frequent participant in discourse on race relations, identity politics, and American social culture, Steele has contributed numerous articles, essays, and editorials to such publications as The New York Times, the Los Angeles Times, Mother Jones, and Harper's, and has appeared on several national current affairs television programs, including Nightline and 60 Minutes.

Before being appointed, in 1994, to his current position as a Senior Research Fellow at the Hoover Institution, Steele taught literature at San Jose State University for 18 years.