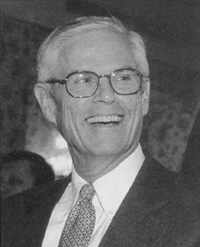 The United States and China: Diplomatic Experiences
JOSEPH PRUEHER
WEDNESDAY, MARCH 31, 2004
As we have seen so vividly in Iraq, the military alone might not be able to solve the tough international issues. A pragmatic framework of political, economic, security, and cultural aspects must undergird the practice of U.S. foreign policy. Using examples from experience in Asia, particularly China, Admiral Prueher will present and lead discussion on the pursuit of our nation's foreign policy goals.

Admiral Prueher is a consulting Professor at Stanford University's Institute of International Studies and Senior Advisor on The Preventive Defense Project. He served as Ambassador to the People's Republic of China from 1999 to 2001. Completing thirty-five years in the U.S. Navy in 1999, his last command was Commander-in-Chief of the U.S. Pacific Command (CINCPAC); the largest military command in the world. CINCPAC spanned over half the earth's surface and included over 300,000 people.

From 1989 through 1995 Admiral Prueher served as Commandant at the U.S. Naval Academy at Annapolis; Commander of Carrier Battle Group ONE based in San Diego; Commander of the U.S. Mediterranean Sixth Fleet and of NATO Striking Forces based in Italy; and as Vice Chief of Naval Operations in the Pentagon. He also spent three years as a Navy Test Pilot at Patuxent River, Maryland. He has extensive flight and combat experience, with over 5600 flight hours and over 1000 carrier landings. He was qualified in 52 types of aircraft, held numerous senior tactical commands, including two carrier air wings, and led the formation of the Naval Strike Warfare Center in Fallon, Nevada.

Admiral Prueher graduated from Montgomery Bell Academy, and then graduated with distinction in 1964 from the U.S. Naval Academy, later receiving an M.S. in International Relations from George Washington University. He is also a graduate of the Naval War College. In addition to coauthoring the Performance Testing Manual used by naval test pilots for many years, he has published numerous articles on leadership, military readiness, and Pacific region security issues.

The Keck Center for International and Strategic Studies is honored to host Admiral Prueher's visit to CMC as a Freeman Foundation Visiting Professor.