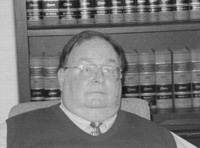 Arguing Cases Before the United States Supreme Court: Reflections of a CMC Alumnus
RUSSELL IUNGERICH '63 P'96
MONDAY, APRIL 5, 2004
LUNCH 11:45 a.m.
LECTURE 12:15 p.m.
Out of the thousands of attorneys practicing law in America, very few will ever argue a case in front of the United States Supreme Court. CMC alumnus Russell Iungerich '63 has argued four cases in front of the nation's highest court. Additionally, he has participated in two in-chambers proceeding before justices Douglas and Rehnquist during which he obtained stays of lower court proceedings. In his Athenaeum lecture Iungerich will draw from these cases to provide a first person account of arguing in front of the United States Supreme Court.

In addition to arguing before the U.S. Supreme Court, Iungerich has argued 15 cases before the California Supreme Court and more than 25 cases before the U.S. Court of Appeals for the Ninth Circuit. In other appellate courts he has argued more than 500 other appeals.

After graduating cum laude from CMC, where he served in ROTC, Iungerich worked in military intelligence for the U.S. army on active duty from 1963-1965 and a reservist from 1965- 1969. Mr. lungerich received his J.D. from Boalt Hall, the Law School of the University of California at Berkeley in 1968 and served as Deputy Attorney General for California from 1969-1978. While in this position he also served as Adjunct Professor of Law at Loyola Law School from 1974-1978.

In his position as Deputy Attorney General, Iungerich successfully opposed the certiorari petition of Robert F. Kennedy's assassin, Sirhan Sirhan. He also served as the lead Deputy Attorney General in reopening the Robert F. Kennedy assassination case to reexamine firearms identification evidence to determine if there was a second gunman.

Iungerich left state service in 1978 to open his own firm in private practice and currently is a principal in the law firm of Iungerich & Spackman. His current work emphasizes representation of physicians and other health care professionals in proceeding before the Medical Board of California and other licensing boards, in interstate licensing matters, in hospital peer review proceeding and various civil trial matters. He is a founding member and current president of the California Academy of Attorneys for Health Care Professionals, former trustee of the Los Angeles County Bar Association and former Editor-in-Chief of the Los Angeles Bar Journal.