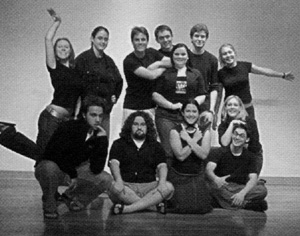 Under the Lights Presents
Dinner Theater
BETTY'S SUMMER VACATION by Christopher Durang
AARON MEYER '04, director
MEGAN BROTHERTON '04, director
THURSDAY, APRIL 22, 2004
FRIDAY, APRIL 23, 2004
SATURDAY, APRIL 24, 2004
Under the Lights, CMC's longest running student theater group, is proud to present Christopher Durang's satirical comedy, Betty's Summer Vacation (1999). This hilarious comedy is a commentary on society's obsession with reality-based entertainment. The play follows the adventures of five summer vacationers. Betty, a sensible young woman rents a room in a cottage on the New Jersey shoreline in search of a restful and relaxing summer vacation. Betty's luck quickly turns when she meets her crazy house mates: her friend Trudy, who chatters constantly; Buck, the lewd, sexy lout-hunk, who tries to have sex with everyone; Keith, a suspected serial killer who hides in his room with a mysterious hatbox; and the cottage owner Mrs. Siezmagraff a lively, eccentric, woman in her mid-40s. Betty's Summer Vacation is "a merry beachside romp featuring murder, mutilation, and charades."

The cast is Elizabeth Brunner '05, Ryan Casella '06, Daniel Curtis '07, Gregory Gallagher '07, Joanna Marks '07; Lauren Mikov '07, Alexis Piazza '07, and Kasey Schneider '07 .

The play lasts approximately two hours, and contains mature subject matter and adult language. Dinner theater is made possible by Under the Lights, the Marian Miner Cook Athenaeum, and ASCMC.

Claremont Colleges students, faculty, and staff..... NO CHARGE
Community guests ............................................... $17.00 per person

Seating will be festival style and is limited. Sign up as soon as possible, circling your first, second, and third choice of date. You will be contacted if your first choice reservation date is unavailable.