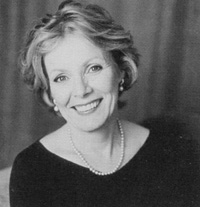 Conversation with Peggy Noonan
PEGGY NOONAN
THURSDAY, APRIL 29, 2004
LUNCH 11:45 a.m.
LECTURE 12:15 p.m.
Peggy Noonan is the bestselling author of five books on American politics, history, and culture. Currently, she is a contributing editor for the Wall Street Journal and a weekly columnist for its editorial page website.

From 1984 to 1986, Ms. Noonan served as special assistant to President Reagan. In 1988, she was the chief speechwriter for George Bush during his presidential campaign. Before entering the political arena, Ms. Noonan wrote and produced television news for CBS, as well as Dan Rather's daily radio commentary. As the editorial and public affairs director for a CBS-owned radio station in Boston, she won the Tom Philips Award for broadcast commentary.

Noonan's latest book, When Character Was King: A Story of Ronald Reagan, was published in 2001 and became a New York Times best seller. Her other books include What I Saw at the Revolution: A Political Life in the Reagan Era (1990); Life, Liberty, and the Pursuit of Happiness (1994); and Simply Speaking (1998). In addition, Ms. Noonan's articles and essays have appeared in such publications as Forbes, Time, and The New York Times, among others. She also is a member of the board of The Manhattan Institute for Political Research, a political think tank "whose mission is to develop and disseminate new ideas that foster greater economic choice and individual responsibility."

The Pacesetters Fellowship Program is the culmination of the hard work and dedication of alumni from the classes of 1948, 1949, and 1950-the Pacesetters. The program attracts leaders in business, academia, and public affairs to Claremont McKenna College for one-on-one interactions with students. Ms. Noonan is the fourth Pacesetters Fellow.