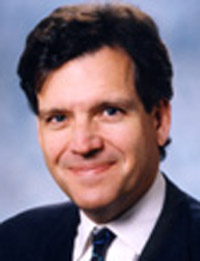 The Investment Banking Industry in 2010
HARRY MCMAHON '75
TUESDAY, MAY 4, 2004
Investment banking in the year 2010 is the topic of the talk sponsored by the Claremont McKenna Economics Society to be presented by Harry McMahon, a 1975 graduate of Claremont McKenna College. Harry McMahon serves as Vice Chairman of Merrill Lynch & Co. and is a member of the executive committee of the Firm's Global Markets and Investment Banking Group. Harry joined Merrill Lynch in 1983 and prior to his move to Los Angeles in 1989, he held senior positions in both Capital Markets and Corporate Finance. From 1996 to 2002, he was co-head of Global Corporate Finance, overseeing all Corporate Client activities in Consumer Products, Healthcare, Media, Technology, and Telecommunications.

His broad base of client experience has included being the team leader on over 250 projects involving either Corporate Finance or Mergers and Acquisitions advisory work. From 1975 to 1983, McMahon worked for the Northern Trust Bank of Chicago in the areas of International Cash Management, Commercial Lending and Corporate Finance.

McMahon currently serves on the Board of Trustees of Claremont McKenna College, where he is also Chairman of the Henry Kravis Leadership Institute. He serves on the Board of Trustees of St. John's Hospital, and on the Board of Directors of Bet Tzedek, the largest legal services charity in Los Angeles; and on the Vestry of St. Matthew's Church in Pacific Palisades.

He received an MBA with a concentration in Finance from the University of Chicago Graduate School of Business in 1980, and a BA with concentrations in Economics and International Relations from Claremont McKenna College in 1975. He and his wife, Jacquie, have four children.

Please join us at the Athenaeum for this address by a distinguished alumnus as part of the award dinner for the Claremont McKenna Economics Society. Dinner begins at 6:00 p.m. following a 5:30 p.m. reception.