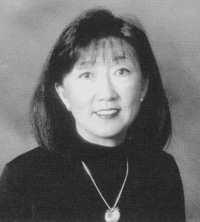 The Future of Race Relations in America
ANGELA OH
WEDNESDAY, APRIL 14, 2004
It is undeniable that progress has been made in the area of race relations in this country. However, we are often reminded of the distance left to travel. We still live in a nation full of inequality and discrimination, despite efforts to overcome these obstacles. How can we bring more egalitarianism and social justice to America?

Angela Oh first chose to apply her skills as an attorney to public service after she was named Special Counsel to the Committee on the Los Angeles Crisis following the 1992, riots. For her distinguished effort, President Clinton appointed Angela Oh to serve on the seven-member Advisory Board to the President's Initiative on Race.

In addition to operating her firm in Los Angeles, Oh & Barrera, LLP, Angela Oh currently serves as a member of the California Commission on Access to Justice, a trustee of the Asian Pacific American Women's Leadership Institute and a board member of the Western Justice Center Foundation. In 2000, 0h was appointed Chancellor's Fellow at the University of Irvine where she teaches a course on Race and American Law. She also recently completed a collection of essays titled Open: One Woman's Journey (2002).

Angela Oh is the founding member of the Multicultural Bar Alliance and formerly served as President of the Korean American Bar Association of Southern California. She is also an ordained Priest in the Zen Buddhist-Rinzai Sect.

Please join us for what is sure to be an insightful look into the problems we face today and possible solutions for tomorrow.