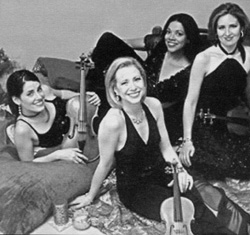 The Lark Quartet: Beethoven String Quartets, Opus 18, No. 4 and Opus 59, No. 1
DEBORAH BUCK, violin
MARIA BACHMANN, violin
KATHRYN LOCKWOOD, viola
ASTRID SCHWEEN, cello
THURSDAY, APRIL 15, 2004
Come escape the allegro tempo of modern life with the internationally acclaimed Lark Quartet. Four extraordinarily gifted musicians will fill the Athenaeum with the exquisite sounds of the music of Ludwig von Beethoven.

Currently celebrating their eighteenth concert season, the ensemble enjoys a reputation for artistic integrity and versatility. Since the ensemble's victories at prestigious international competitions, including the 1990 Naumburg Chamber Music Award and Russia's Shostakovich Competition Gold Medal in 1991, the musicians of the Lark have continued to perform around the world in such venues as the Beethoven Festival in Moscow. This season alone, the Lark will appear on tour in Germany, at Carnegie Hall, Lincoln Center's Great performers series, the Smithsonian Institution, and throughout New York City as it launches a new family concert series entitled "Lark About Town."

Masters of both the traditional string quartet repertoire and the works of recent artists who delight in bending the "Classical" mode, the artistic energies of this unusual foursome are fueled by this contrast of stylistic extremes.

The quartet discography comprises nearly one dozen CD recordings and a 1998 video documentary of the ensemble which recently appeared on Public Television stations nationwide.

In addition to their contributions to the Lark Quartet, each member of the ensemble is professionally distinguished in her own right. Graduates of esteemed institutions such as Julliard and The Curtis Institute, these musicians are prize-winning soloists, recording artists, and university faculty whose talents mingle and multiply in the classic quartet.

Please join us for what will undoubtedly be an unforgettable evening.