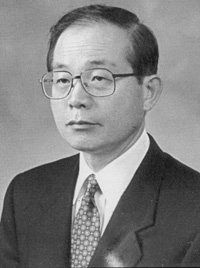 The United States and North Korea: Nuclear Issues
CHONG-HA YOO
TUESDAY, APRIL 20, 2004
LUNCH 11:45 a.m.
LECTURE 12:15 p.m.
The campaign against the weapons of mass destruction is the central focus of President Bush's foreign and security policies. This was the rationale for the American invasion of Iraq. Unlike Iraq, North Korea has declared that it has active nuclear programs. Now that the United States, South Korea, China, Japan, and Russia are engaged in the Six-Party Talks with North Korea in Beijing for a possible dismantlement of its nuclear facilities, it remains to be seen whether North Korea can be persuaded to accept a peaceful solution of this important issue or may be tempted to take a more recalcitrant posture against the international community.

As the former South Korean Foreign Minister (1996-98) and the National Security Adviser to President Kim Young Sam (1994-96), Ambassador Chong-Ha Yoo is highly qualified to discuss the topic, "The United States and North Korea: Nuclear Issues." When he served as South Korea's Ambassador to the United Nations (1992-94), he dealt with the North Korean nuclear issue which was discussed at the U.N. Security Council and General Assembly. In addition, he was instrumental in initiating and promoting the Four-Party Peace Talks on Korea (the United States, China, South Korea, and North Korea), which Presidents Kim and Clinton proposed in 1996.

Ambassador Yoo studied at Seoul National University and at University of Bonn. As a distinguished career diplomat, he served as South Korea's Ambassador to the European Union and to the Sudan and as Vice Foreign Minister and Assistant Foreign Minister for Economic Affairs. He also was Director of the Bureau of American Affairs. His other foreign service assignments included positions in Washington, Chicago, London, Bonn, and Islamabad.

Upon his retirement from the 36-year diplomatic career in 1998, Ambassador Yoo has been a Professor of International Studies at Sogang University, Seoul. He taught a class at Claremont McKenna College as the Freeman Foundation Visiting Professor in the spring semester of 1999.

The Keck Center for International and Strategic Studies is honored to host Ambassador Yoo's visit to CMC as a Freeman Foundation Visiting Professor.