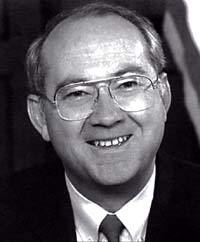 A Conversation with Senator Gramm
PHIL GRAMM
TUESDAY, SEPTEMBER 14, 2004
During 18 years of service in the United States Senate, Phil Gramm has been a relentless opponent of big government, championing the need for balanced federal budgets, tax relief, and responsible overhaul of health care. Since retiring from the Senate in 2002, Senator Gramm has become a vice chairman and investment banker for UBS Investment Bank—one of the largest financial services firms in the world.

Senator Gramm first won election to the House of Representatives as a Democrat, but when the Democratic leadership stripped him of his House Budget Committee seat in retaliation for coauthoring the Reagan economic program, he became the only member of Congress in the twentieth century to resign from Congress and to seek re-election as a member of another political party.

The Gramm legislative record includes such landmark bills as the Gramm-Latta Budgets which reduced federal spending, rebuilt national defense, and mandated the Reagan tax cut. Those budgets launched an economic recovery that created 21 million new jobs. Two years later, Senator Gramm passed his Gramm-Rudman Act, which placed the first binding constraints on Federal spending. Those spending constraints have become a part of each subsequent American budget and together with the strong economy helped to produce the first balanced budget in 30 years. As chairman of the National Republican Senatorial Committee, he led the successful effort to restore a Republican majority in the Senate in 1994.

Senator Gramm holds a Ph.D. in economics, the subject he taught at Texas A&M University for 12 years. He has published numerous articles and books on subjects ranging from monetary theory and policy to private property to the economics of mineral extraction, and served as chairman of the Senate Banking Committee.

The Pacesetters Fellowship Program is the culmination of the hard work and dedication of alumni from the classes of 1948, 1949, and 1950— the Pacesetters. The program attracts leaders in business, academia, and public affairs to Claremont McKenna College for one-on-one interactions with students. Senator Gramm is the fifth Pacesetters Fellow.