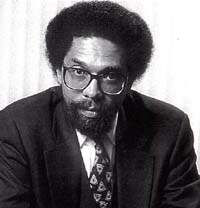 Democracy Matters: Winning the Fight Against Imperialism
CORNEL WEST
THURSDAY, SEPTEMBER 16, 2004
Praised by The New York Times for his "ferocious moral vision" and hailed by Newsweek as "an elegant prophet with attitude," Cornel West is one of America's most gifted, provocative, and important public intellectuals. His work has been described as a "polemical weapon that attempts to transform linguistic, social, cultural, and political tradition to increase the scope of individual development and democratic actions." West's writing, speaking, and teaching weave together the American traditions of the Baptist Church, transcendentalism, socialism, and pragmatism.

A sequel to Cornel West's best-selling book Race Matters (1993), West's latest book Democracy Matters: Winning the Fight Against Imperialism (2004) aims to "look unflinchingly at the waning of democratic energies and practices in our present age of American empire." West argues that American democracy is threatened by free market fundamentalism, aggressive militarism, and escalating authoritarianism. If America is to become a better steward of democratization around the world, he says, we must first wake up to the long history of imperialist corruption that has plagued our own democracy.

Cornel West is the Class of 1943 University Professor of Religion and African American Studies at Princeton University. He holds degrees from Harvard and Princeton, and has also taught at Union Theological Seminary, Yale Divinity School, and Harvard University. Race Matters has been in print since 1993 and has sold more than four hundred thousand copies. Dr. West has won numerous awards, including the American Book Award, and has received more than twenty honorary degrees.

The dinner is open for CMC persons only. All are welcome to attend the lecture at 6:45 p.m. Seating is on a first-come basis.