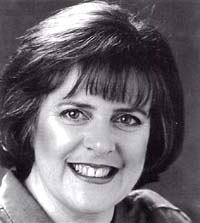 Spiritual Practice and Social Justice
KATHLEEN NORRIS
TUESDAY, SEPTEMBER 21, 2004
Kathleen Norris is an award-winning poet, writer, and the author of New York Times bestsellers The Cloister Walk (1996), Dakota: A Spiritual Geography (1993), Amazing Grace (1999), A Vocabulary of Faith (1999), and The Virgin of Bennington (2001). She lived for 30 years in her grandparent's home in Lemmon, South Dakota, before moving to Hawaii. Norris has drawn upon the harsh landscape of her home in her spiritual musings, which are at once intimate and historical, rich in poetry and meditations, brimming with exasperation and reverence, deeply grounded in both nature and spirit, sometimes funny, often provocative, and always important.

Norris's most recent book, The Virgin of Bennington, chronicles her life before she moved to South Dakota. She describes the internal and external journey of a young artist in trying to find a place for herself amid the cultural tumult of the 1960s and 70s. The book chronicles her relationship with her mentor, Betty Kray. Norris says, "The book that resulted is about me as much as it is about Betty Kray, and I find myself amazed at the tale I've told. It is my life, but it's hard to recognize myself in the nave girl nicknamed The Virgin of Bennington, who emerged from the turbulent sixties with a vocation as a writer.

Norris has been the recipient of grants from the Bush and Guggenheim Foundations. She has twice been in residence at the Institute for Ecumenical and Cultural Research at St. John's Abbey in Collegeville, Minnesota, and has been oblate at a Benedictine Monastery in North Dakota for ten years.