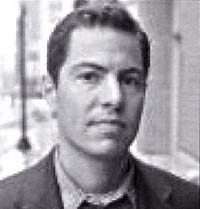 Speaking Out: A Gay Republican's Personal Journey
PATRICK GUERRIERO
THURSDAY, SEPTEMBER 23, 2004
A former mayor, state representative, and candidate for lieutenant governor from Massachusetts, Patrick Guerriero has served as executive director of Log Cabin Republicans and as president of the Liberty Education Forum since January 2003. In his career he has earned a reputation as a dedicated, effective, and compassionate public servant. As a Republican, Guerriero has championed issues important to all citizens: lower taxes, smaller government, improved public schools, safer neighborhoods, and equal rights. In addition, he has advocated for anti-hate-crime legislation and AIDS funding, as well as expansion of domestic partnership benefits.

Guerriero served three terms in the Massachusetts House of Representatives and two terms as mayor of Melrose, Massachusetts. In 2002 he received national attention when Governor Jane Swift of Massachusetts invited him to join the Republican ticket as her running mate. Guerriero campaigned as a fighter for lower taxes, fiscal discipline in government, and improved public schools. Governor Swift eventually stepped aside to support fellow Republican Mitt Romney's candidacy, but Guerriero's candidacy made history as the first time an incumbent governor selected an openly gay politician as a running mate.

Guerriero's advocacy for strong local government earned him the 1998 Fenn Award for Political Leadership from the Kennedy Library's New Frontier Society and the Massachusetts Municipal Association. In the words of Governor Swift, Patrick Guerriero is a "person of talent, of integrity, of commitment and class."

Patrick Guerriero's visit to CMC is jointly sponsored by the Office of the Dean of Students and the Marian Miner Cook Athenaeum.