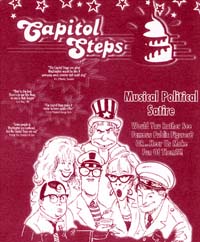 Capitol Steps: There's Something Funny Going on in Washington
ANN SCHMITT
KEVIN CORBETT
MIKE CARRUTHERS
MIKE TELFORD
BARI SEDAR
JON SIMLER
MARC IRWIN, piano
MONDAY, SEPTEMBER 27, 2004
The Capitol Steps are what Washington would be like if everyone were smarter and could sing.
—P.J. O'Rourke

The Capitol Steps is the only group in America that attempts to be funnier than the Congress. This troupe of current and former Congressional staffers monitors events and personalities on Capitol Hill, in the Oval Office, and in other centers of power and prestige around the world, and then takes a humorous look at serious issues by satirizing the very people and places that once employed them.

The Steps got their start in December 1981 at a Christmas party for the Senate Foreign Relations Committee when three members of Senator Charles Percy's staff were asked to provide entertainment. They decided to dig into the headlines of the day, creating song parodies and skits that have become the group's signature brand of satirical humor. Since then, they've been featured on NBC, CBS, ABC, and PBS, and have performed for the last five Presidents. The Capitol Steps have also recorded twenty four albums since 1984, including their latest, Papa's Got a Brand New Baghdad (2004) on which the cast is joined by guest appearances including George Bush (I and II), Donald Rumsfeld, Saddam Hussein, the late Uday and Qusay, along with John Kerry, Howard Dean, Wesley Clark, Arnold Schwarzeneggcr, and Hillary Clinton.

Most cast members have worked on Capitol Hill: some for Democrats, some for Republicans, and others for politicians who firmly straddle the fence. Most of these politicians have either been defeated or placed under investigation. No matter who holds office, there is never a shortage of material– political scandal, controversy, and missteps– to ensure that the Capitol Steps have plenty to sing about.

For all who suffer from politics-as-usual weariness or pre-election stress, the ASCMC and the Athenaeum are bringing the Capitol Steps to CMC to remind everyone that fact is funnier than fiction. The performance will be held in McKenna Auditorium at 7:00 pm. There will be no dinner preceding this event. The free tickets will be available at the Dean of Students Office exclusively to CMC students beginning Friday, September 17 through Wednesday September 22. After that, they will be available to all on a first come basis. Come join the fun.