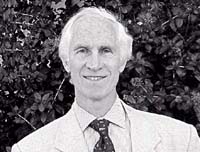 Beyond Bilateralism: The U.S.-Japan Relationship in the New Asia-Pacific
T.J. PEMPEL
MONDAY, OCTOBER 4, 2004
Professor T.J. Pempel, director of the Institute of East Asian Studies and professor of political science at the University of California, Berkeley, will speak at the Athenaeum in a lecture sponsored by the Keck Center for International and Strategic Studies at CMC. In his Athenaeum address, Professor Pempel will assess how three major transformations occurring in the Asia-Pacific are affecting the U.S.-Japan relationship. First, the geo-political structures of the Asia-Pacific have been transformed by the end of the Cold War, the rise of China as a major economic and strategic power, and the increase in intra-state conflict and non-state terrorism. Second, capital flows across borders have increased exponentially. And third, multi-lateral organizations have sprung up in the trade, finance, and security areas across the Asia-Pacific.

Despite these historic transformations, most previous studies have treated the U.S.-Japan relationship as if it operated in a vacuum, ignoring its regional context and treating each of the bilateral partners as the primary source of influence on the other. Pempel will examine how and to what extent the crucial global and regional security, finance, and trade transformations have altered the U.S.-Japan relationship, moving it "beyond bilateralism."

Professor Pempel received his B.A., M.A. and Ph.D. degrees from Columbia University and has taught at Cornell University and the Universities of Wisconsin, Colorado, and Washington. He has been a member of various professional bodies, including the Social Science Research Council's Committee on Japanese Studies that he chaired from 1994–96; the Fulbright Commission on Political Science that he chaired from 1988–90; and the American Political Science Association's Committee on International Exchange that he chaired from 1994-96.

The author of twelve books and over eighty articles, Pempel's research interests have concentrated on the Japanese political economy, particularly within a comparative perspective, as well as on problems of the Asian region. His books include Policy and Politics in Japan: Creative Conservatism (1982); Uncommon Democracies: The One Party Dominant Regimes (1990); and most recently a coedited volume published in 2004, Beyond Bilateralism: U.S.-Japan Relations in the New Asia-Pacific.