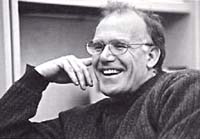 Western War in the Post-Modern Age
VICTOR DAVIS HANSON
MONDAY, OCTOBER 11, 2004
The Henry Salvatori Center and the Marian Miner Cook Athenaeum present a special evening with classicist, military historian, and renowned author Victor Davis Hanson.

In his best-selling collection of essays, An Autumn of War: What America Learned from September 11 and the War on Terrorism (2002), and in his most recent book, Between War and Peace: Lessons from Afghanistan and Iraq (2004), Hanson examines the world's ongoing war on terrorism, from America to Iraq, from Europe to Israel, and beyond.

Hanson portrays an America making progress against Islamic fundamentalism but hampered by the self-hatred of elite academics at home and the cynical self-interest of allies abroad. He sees a new and urgent struggle of evil against good, one that can fail only if "we convince ourselves that our enemies fight because of something we, rather than they, did."

Whether in defense of Israel as a secular democracy, criticism of the United Nations, a plea to alter our alliance with Saudi Arabia, or a perception that postwar Iraq is reaching a dangerous tipping point, Hanson's arguments have the shock of candor and the fire of conviction.

Victor Davis Hanson was educated at the University of California, Santa Cruz, and the American School of Classical Studies in Athens, and received his Ph.D. in classics from Stanford University. He farmed full-time for five years before returning to academia in 1984 to initiate a classics program at California State University, Fresno, where he is currently a professor of classics.

Hanson is the author of over 170 articles, book reviews, and newspaper editorials on Greek, agrarian, and military history and essays on contemporary culture. He has written or edited thirteen books, including Warfare and Agriculture in Classical Greece (1998), and The Western Way of War: Infantry Battles in Classical Greece (1989).