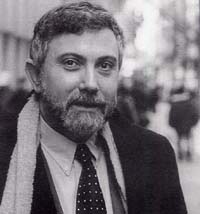 McKenna Lecture on International Trade and Economics
The Great Unraveling: Losing Our Way in the New Century
PAUL KRUGMAN
WEDNESDAY, OCTOBER 13, 2004
Paul Krugman welcomes people to his personal website by saying, "With any luck, you will find many of these pieces extremely annoying. My belief is that if an op-ed or column does not greatly upset a substantial number of people, the author has wasted the space." Throughout his career, Krugman has used the popular press to highlight policy makers' misuse of economic theory. He helped found "new trade theory," which challenges the theory that nations compere with each other for jobs and markets, he criticized the Reagan White House for their supply side economics, and he quit working for the Clinton White House because he disagreed with their "strategic trade" policy. In 1997, Fareed Zakari, managing editor of Foreign Affairs, which publishes some of Krugman's work, said, "Paul's strength is that he's not intimidated by authority— either intellectual or political."

Krugman was raised on Long Island and educated at MIT. He has written and edited 18 books and written countless op-ed pieces for The New York Times, Fortune, and Slate.com to name a few. In 1991 he was awarded the biannual John Bates Clark Medal by the American Economic Association for achievement by an Economist under 40. He has taught at Stanford, MIT and Princeton and worked for the Council of Economic Advisors and the World Bank. His most recent book, The Great Unraveling: Losing Our Way in the New Century (2003), immediately hit number 4 on the New York Times Best Sellers List and this spring he published Principles of Economics (2004), a textbook coauthored with Robin Wells.

Paul Krugman's lecture is the tenth annual McKenna Lecture on International Trade and Economics funded by the Philip M. McKenna Foundation and presented at the Marian Miner Cook Athenaeum. Dinner reservations are for CMC persons only. The lecture at 6:45 p.m. is open for all.