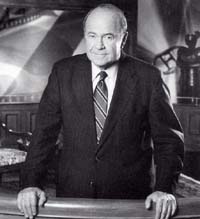 Media Malarky: Can Democracy Survive the Mass Media?
SANDER VANOCUR
WEDNESDAY, OCTOBER 20, 2004
A veteran of more than forty years in print, radio and television journalism, Sander Vanocur has been covering national and international news since 1958, and was one of three panelists on the first Kennedy-Nixon televised debate in 1960.

He began his journalism career as a reporter in London for The Manchester Guardian. At the same time, he was a commentator for the North American Service of the BBC and a stringer for CBS News. From 1975 to 1977, Vanocur was the television editor and critic for The Washington Post. He gained national prominence during his 14 years with NBC News, where he served three years as White House Correspondent before being named National Political Correspondent. While with NBC News, Vanocur was also Washington Correspondent for the "Today" show, a contributing editor to the "Huntley-Brinkley Report," and host of "First Tuesday," a monthly two-hour magazine program.

A veteran political reporter, Vanocur was ABC News' chief "overview" correspondent covering the Democratic and Republican candidates in the 1980 and 1984 presidential elections. He was a floor reporter at both the Republican and Democratic national conventions in 1980 and covered the podium at the 1984 national conventions. In 1982, he was ABC's Senior Correspondent in Buenos Aires covering the Falkland Islands war between Great Britain and Argentina.

Vanocur left NBC News in September, 1971, to become Senior Correspondent for the National Public Affairs Center for television of PBS. Two years later, he became consultant to the Center for the Study of Democratic Institutions and professor of communications at Duke University. He recently completed a video series on the post-war Congress and the Media as well as the video series on Television and the President which has been distributed to university and college journalism schools and political science departments. He left ABC News in 1991 to form his own company, Old Owl Communications, a full service communications and consulting corporation.

Born in Cleveland, Ohio, Vanocur graduated from Northwestern University with a B.A. in political science and spent a year in graduate study at the London School of Economics.