Athenaeum Location
Print Newsletter
October 25, 2004
Vol. 20, No. 04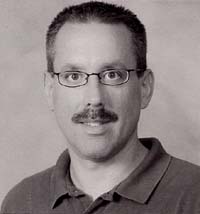 The Legacy of Chile's Pinochet: Domestic Politics and International Human Rights
PETER SIAVELIS
MONDAY, OCTOBER 25, 2004
The Chilean transition to democracy is hailed as one of the most successful in Latin America. Nonetheless, the specter of former dictator Augusto Pinochet has hung over and at times threatened this much-heralded success. While General Pinochet was resoundingly defeated by civilian elites and Chilean democracy has functioned better than almost any other in the region, the Constitution he imposed has shaped post-authoritarian politics in the country, and the legal system continues to grapple with the legacy of human rights abuses. Still, the significance of Pinochct's rule reaches beyond Chile's borders. Pinochet's 1998 arrest in London on charges of human rights abuses underscored the emergence of a new world order where domestic human rights abuses are fair game for those seeking justice on the international stage. Though the aging dictator was eventually released and returned to Chile on the grounds that he was unfit to stand trial, Pinochct's case is a cautionary one for perpetrators of human rights abuses. Professor Siaveliswill explore the implications of Pinochet's legacy for Chile, and their connections to this new international human rights regime.

Peter Siavelis is an associate professor of political science and Hultquist Faculty Fellow at Wake Forest University in Winston-Salem, NC. He received his Ph.D. from Georgetown University in 1996, and was a visiting professor at the Catholic University of Chile. His research interests include executive-legislative relations, electoral systems, local government, and decentralization in Latin America. He is the author of The President and Congress in Post-authoritarian Chile: Institutional Constraints to Democratic Consolidation (University Park, PA: Pennsylvania State University Press, 2000), and numerous articles on electoral and party politics in Chile. His current work focuses on political recruitment in the Americas.

This lecture by Peter Siavelis is cosponsored by the Keck Center for International and Strategic Studies as part of the series Democracy and Latin America.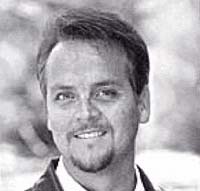 Latino Politics, Religions, and the 2004 Presidential Election
GASTON ESPINOSA
TUESDAY, OCTOBER 26, 2004
Newly appointed assistant professor of religious studies at Claremont McKenna College, Gaston Espinosa brings to this community a wealth of scholarship and expertise in the area of religion and politics— in particular Latino religions in American public life.

Professor Espinosa recently served as project manager of the $1.3 million Pew Charitable Trusts—funded Hispanic Churches in American Public Life (HCAPL) research project. The HCAPL project surveyed the religious and political attitudes of more than 3,000 Latinos across the U.S. and Puerto Rico, making it the largest study in U.S. history on Latino religions and politics. In May 2002 he spoke at the National Hispanic Prayer Breakfast with President George W. Bush and Senator Joseph Liebermann. In recognition of his scholarly contributions to the Latino community and American public life, the Generations Center of Princeton named him one of the nation's 100 Positive Men of Color.

Espinosa has masters degrees from Princeton Seminary and Harvard University and a Ph.D. in history from the University of California, Santa Barbara. He has also won the prestigious Dartmouth College Cesar Chavez Dissertation Year Fellowship (awarded to only one Latino per year from any discipline and any Latin country of origin) and the two-year Andrew W. Mellon Postdoctoral Fellowship at Northwestern University.

In April 2005 CMC will host a conference on Religion and the American Presidency, conceived and organized by Professor Espinosa. This historic conference will explore the critical role that religious leaders, symbols, values, and rhetoric play in presidential politics. Distinguished scholars and political leaders from across the U.S. will be on campus during this conference.

Please join the Athenaeum in welcoming one of CMC's distinguished faculty for this timely pre-election discussion.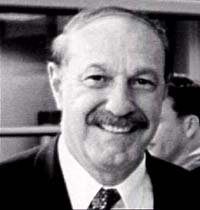 Self-Leadership in a Changing World: A Brazilian Perspective
ODIR PEREIRA
WEDNESDAY, OCTOBER 27, 2004
LUNCH, 11:45 a.m., LECTURE, 12:15 p.m.
Odir Pereira is president of the Leadership Institute of Brazil (Instituto de Lideranca do Brasil or ILB), and director of Human Technologies International, an international management-consulting firm. ILB is a non-profit organization aimed at fostering leadership development in the government, private, and social sectors.

A former director and international consultant for Booz Allen & Hamilton, Mr. Pereira managed a wide range of international consulting assignments in Brazil, the U.S., Europe and Asia. He specialized in the areas of strategic and project management, joint ventures, and organizational development. He has also worked as executive and CEO for prominent Brazilian companies in the areas of healthcare, publishing, engineering & construction, and banking.

Pereira is the author of many articles for premier business magazines and periodicals as well as a sought-after speaker at international conferences. He is a graduate of UCLA, where he obtained his B.S. and Master's degrees in Management Sciences and Engineering. He is also a former professional soccer player and was an all-conference player while playing for UCLA in the NCAA.

Odir Pereira has developed a model based on a solid commitment to personal leadership development. The Kravis Leadership Institute is pleased to sponsor his presentation and all are welcome to attend. Lunch begins at 11:45 a.m. Mr. Pereira will speak at 12:15 p.m.
Weapons-of-Mass-Corruption: What Was So Dangerous about the United Nations Oil-for-Food Program in Iraq
CLAUDIA ROSETT
WEDNESDAY, OCTOBER 27, 2004
Set up as a relief effort to help sick and hungry Iraqis, the United Nations Oil-for-Food program has turned out to be the biggest financial scandal in the history of humanitarian relief. Not only did Saddam Hussein manage to skim billions from Iraq oil earnings meant solely for aid; he also pursued a strategy of corrupting the U.N. Security Council itself—eroding U.N. sanctions on his regime, replenishing his resources, and rebuilding his networks for acquiring arms. The U.N. not only failed to stop him, but actively provided cover in the form of confidentiality for Saddam's deals, failure to police his pricing scams, and failure to alert the world that Saddam was corrupting the U.N.'s own debates. Much of the damage is still with us. How this happened is not only a story of good intentions gone horribly wrong, but a cautionary tale about deep institutional flaws that even today continue to bedevil the U.N.

Claudia Rosctt writes on international affairs, drawing on 23 years experience as a journalist and editor, reporting from Asia, the former Soviet Union, Latin America, and the Middle East. She is currently a journalist-in-residence with the Foundation for the Defense of Democracies, an adjunct fellow with the Hudson Institute, and a contributing columnist to The Wall Street Journal's Opinion Journal.

Rosett's on-site coverage of China's 1989 Tiananmen Square uprising, won an Overseas Press Club Citation for Excellence. Her work has included editorializing about the global crises of the late 1990s in emerging markets; on-the-scene reporting of the 1994–1996 war in Chechnya; and the 1992 collapse of the Soviet-installed regime in Kabul. In 1994 she broke the full story of North Korean labor camps in the Russian Far East, reporting from the camps.

Claudia Rosett holds a B.A. from Yale University, and M.A. in English Literature from Columbia Universiry, and an M.B.A. from the University of Chicago Graduate School of Business.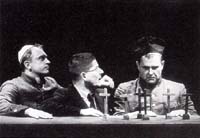 Teatr Provisorium: Ferdydurke
MICHAL ZGIET
JAROSLAW TOMICA
JACEK BRZEZINSKI
WITOLD MAZURKIEWICZ
PIOTR SZAMRY, stage manager
JANUSZ OPRYNSKI, light and sound design
THURSDAY, OCTOBER 28, 2004
Ferdydurke (1937) is a surreal satire that explores the cruelty and absurdity of the adolescent and adult worlds. Joseph, a 30 year-old writer, is transformed by a demonic professor of literature into an adolescent and sent back to school "to learn how to do it right." There he re-experiences the cruelties of adolescence from an adult perspective, complete with school-yard taunts, sexual awkwardness, and a wrestling match acted out with the weapons of grotesque facial expressions and alternatively pious and obscene gestures.

This award-winning theatrical experience from the Polish Teatr Provisorium and Komania Teatr is an adaptation by Allen Kuharski of the first novel of Witold Gombrowicz (1904-1969), the enfant terrible of Polish literature and one of the great writers of the 20th century. "A master of verbal burlesque, a connoisseur of psychological blackmail, Gombrowicz is one of the profoundest of late moderns," wrote John Updike, adding that "Ferdydurke, among its centrifugal charms, includes some of the truest and funniest literary satire in print."

This production is part of global celebration of the Gombrowicz centennial. In addition to Ferdydurke, Gombrowicz is renowned for three other novels— Trans-Atlantyk (1953), Pornographia (1960), and Cosmos (1967)— several plays and his monumental three-volume Diary: 1953-56, 1957-61, 1961-67 (1988, 1989, 1993).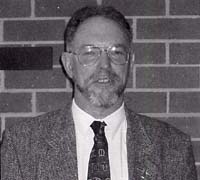 New Zealand: A Land Apart
RICHARD HOLDAWAY
MONDAY, NOVEMBER 1, 2004
Dr. Richard N. Holdaway is a distinguished extinction biologist specializing in the effects of human settlement and invasive species on pristine environments. He holds positions as an Adjunct Senior Fellow in both the School of Biological Sciences and the Department of Geological Sciences, University of Canterbury, and is co-author of the recent best selling book The Lost World of the Moa: Prehistoric Life of New Zealand (Indiana University Press, 2002), described by reviewers as "a landmark work" and "a masterwork that will stand for years."

Holdaway's recent research includes the demonstration that Pacific rats– and therefore their human transporters– arrived in New Zealand a millenium before the arrival of the founding Mori population that first reached New Zealand about 700 years ago. His research on human impacts and the collapse of ecosystems in New Zealand contains important lessons for the husbandry of ecosystems around the world.

We look forward to a fascinating exploration of the evolution and demise of life in the "strangest corner of our planet." Dr. Holdaway's lecture is sponsored by the Robert's Center for Environmental Studies at CMC.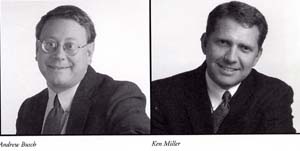 Election Night: Analyzing the Results
ANDREW BUSCH
KEN MILLER
TUESDAY, NOVEMBER 2, 2004
It is a tradition at the Athenaeum to serve a special election night dinner and watch the returns on the big screen. Throughout the evening as the results come in, professors Andrew Busch and Ken Miller will answer questions and spur discussion on what is happening in real time- providing commentary on the presidential election, national congressional races, and California's referendums.

Ken Miller joined the CMC's government department faculty in 2003. A native Southern Californian, Miller graduated from Pomona College in 1985. While at Pomona, he participated in the CMC Washington Program and interned for Congressman David Dreier (CMC '75). He graduated from Harvard Law School in 1988 and practiced full-time at the law firm of Morrison & Foerster, LLP before earning a Ph.D in political science at Berkeley in 2002. While at Berkeley, Miller won a departmental teaching award and served as the administrator of the John Gardner Public Service Fellowship Program. Miller's research has focused on the conflict between direct democracy and representative government. He has a forthcoming article entitled, "The Davis Recall and the Courts."

Andrew Busch, associate professor of government at CMC, joined the faculty this fall from the University of Denver's political science department, where he received the Teacher-Scholar of the Year award in 2002. His research interests include American elections and public policy and the Reagan presidency. He has published 7 books, including The Perfect Tie: The True Story of the 2000 Presidential Election (2001) and Horses in Midstream: U.S. Midterm Elections and Their Consequences, 1894-1998 (1999). Busch received his B.A. in political science and history from the University of Colorado, and his Ph.D. in government from the University of Virginia.

Dinner will he served at the normal time with commentary continuing throughout the course of the meal. Due to the popularity of this event, dinner reservations are for CMC persons only.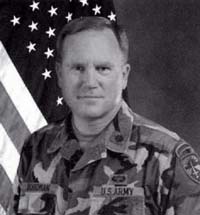 U.S. Operations in Afghanistan: Military Objectives and Broader Strategic Goals
MICHAEL BOARDMAN '74
WEDNESDAY, NOVEMBER 3, 2004
Colonel Michael W. Boardman recently returned from Afghanistan where he served as the lead Military Intelligence Officer for Combined Joint Task Force 180, which is the senior military intelligence officer position in the country. In his Athenaeum talk he will discuss U.S. national objectives in Afghanistan, and address difficulties that the United States, the United Nations, and Coalition operations have had in pursuit of those objectives.

Boardman will be speaking from a personal and strictly unofficial perspective, as his comments are neither approved by nor consistent with official Army or Department of Defense policics.

Boardman was born June 18, 1952 and raised in Spokane, Washington. In 1974 he was awarded a Bachelor of Arts degree in International Relations from Claremont McKenna College and was commissioned a Second Lieutenant in the United States Army. He earned a Doctor of Jurisprudence from Willamette University, Salem, Oregon, in 1977, and a Master of Arts in International Security Studies at the Navy War College in 1997. His military education includes the Military Intelligence Officer Basic and Advanced Courses, the U.S. Army Airborne School, the Special Forces Qualification Course, the Army Command and General Staff College, and the U.S. Navy War College.

Colonel Boardman's visit to campus will provide a wonderful opportunity for Claremont cadets and community to meet with him and to hear about the United States' on-going efforts in Afghanistan.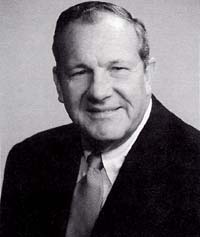 Where is US. Foreign Policy Headed Now That the Election is Over?
MICHAEL ARMACOST
THURSDAY, NOVEMBER 4, 2004
LUNCH, 11:45 a.m., LECTURE, 12:15 p.m.
Rarely has a Presidential election been so heavily dominated by foreign policy concerns as in 2004. Does the outcome herald continuity or major course corrections? What are the prospects for change in American strategy for responding to the challenges posed by Islamic extremists? Heading off nuclear proliferation in Iran and North Korea? Repairing the rift with Europe? Reducing our dependence on Middle East oil? Fostering a Great Power Concert in Asia? These are among the issues that Dr. Armacost will explore.

Michael Armacost has been a Shorenstein Distinguished Fellow in the Asia/ Pacific Research Center at Stanford University since September 2002. He previously held the position of President of The Brookings Institution from October 1995 until June 2002. During his twenty-four years in government, he served as U.S. Ambassador to Japan, U.S. Ambassador to the Philippines, and Under Secretary of State for Political Affairs, and occupied senior policy responsibilities in the National Security Council and Department of Defense. From 1993–1995 he was Distinguished Senior Fellow and Visiting Professor at Stanford University's Asia/Pacific Research Center.

Dr. Armacost was educated at Carleton College, Friedrich Wilhelms University, and Columbia University. He has taught and lectured at Pomona College, Georgetown University, Stanford University, Johns Hopkins University, and International Christian University (Japan). He is the author of three books; a recent book Friends or Rivals? The Insider's Account of U.S.-Japan Relations (1996) assessed the relations between Japan and the United States in the post-Cold War era. Dr. Armacost is the recipient of the President's Distinguished Service Award, the Defense Department's Distinguished Civilian Service Award, and the Secretary of State's Distinguished Service Award.

Armacost is currently the Freeman Foundation Visiting Professor of Asian Affairs and is teaching a course this fall at Claremont McKenna College called Topics in U.S. Relations with Asia. The Keck Center for International and Strategic Studies is honored to sponsor Ambassador Armacost's speech.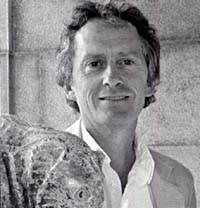 Virgil's Tale of Four Cities: Troy, Carthage, Alexandria, and Rome
DENIS FEENEY
THURSDAY, NOVEMBER 4, 2004
The political subtexts of Virgil's Aeneid (19BC) have greatly interested recent scholars. How does the poem connect its legendary story of Aeneas to the politics of Virgil's time? What attitudes does Virgil's poem express toward the newly established Roman empire under Augustus? How does the poem differentiate between Romans and others? Princeton classicist Denis Feeney will examine these issues in his Athenaeum address.

Professor Feeney is a leading authority on the literature and culture of classical Rome. He has published two books on the interaction between Roman literature and religion: The Gods in Epic (1991) and Literature and Religion at Rome (1998), as well as articles on Virgil, Ovid, Horace, Catullus and other Latin poets.

A native of New Zealand, Professor Feeney was educated at the University of Auckland and at Oxford University, and taught at the universities of Edinburgh, Wisconsin, Bristol, and Oxford before joining the Princeton faculty as Giger Professor of Latin in 2000. In spring 2004 he was Visiting Sather Professor of Classics at the University of California, Berkeley, where he delivered a series of lectures on his current area of research: how ancient Romans thought about time.