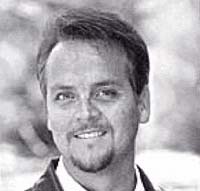 Latino Politics, Religions, and the 2004 Presidential Election
GASTON ESPINOSA
TUESDAY, OCTOBER 26, 2004
Newly appointed assistant professor of religious studies at Claremont McKenna College, Gaston Espinosa brings to this community a wealth of scholarship and expertise in the area of religion and politics— in particular Latino religions in American public life.

Professor Espinosa recently served as project manager of the $1.3 million Pew Charitable Trusts—funded Hispanic Churches in American Public Life (HCAPL) research project. The HCAPL project surveyed the religious and political attitudes of more than 3,000 Latinos across the U.S. and Puerto Rico, making it the largest study in U.S. history on Latino religions and politics. In May 2002 he spoke at the National Hispanic Prayer Breakfast with President George W. Bush and Senator Joseph Liebermann. In recognition of his scholarly contributions to the Latino community and American public life, the Generations Center of Princeton named him one of the nation's 100 Positive Men of Color.

Espinosa has masters degrees from Princeton Seminary and Harvard University and a Ph.D. in history from the University of California, Santa Barbara. He has also won the prestigious Dartmouth College Cesar Chavez Dissertation Year Fellowship (awarded to only one Latino per year from any discipline and any Latin country of origin) and the two-year Andrew W. Mellon Postdoctoral Fellowship at Northwestern University.

In April 2005 CMC will host a conference on Religion and the American Presidency, conceived and organized by Professor Espinosa. This historic conference will explore the critical role that religious leaders, symbols, values, and rhetoric play in presidential politics. Distinguished scholars and political leaders from across the U.S. will be on campus during this conference.

Please join the Athenaeum in welcoming one of CMC's distinguished faculty for this timely pre-election discussion.