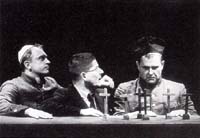 Teatr Provisorium: Ferdydurke
MICHAL ZGIET
JAROSLAW TOMICA
JACEK BRZEZINSKI
WITOLD MAZURKIEWICZ
PIOTR SZAMRY, stage manager
JANUSZ OPRYNSKI, light and sound design
THURSDAY, OCTOBER 28, 2004
Ferdydurke (1937) is a surreal satire that explores the cruelty and absurdity of the adolescent and adult worlds. Joseph, a 30 year-old writer, is transformed by a demonic professor of literature into an adolescent and sent back to school "to learn how to do it right." There he re-experiences the cruelties of adolescence from an adult perspective, complete with school-yard taunts, sexual awkwardness, and a wrestling match acted out with the weapons of grotesque facial expressions and alternatively pious and obscene gestures.

This award-winning theatrical experience from the Polish Teatr Provisorium and Komania Teatr is an adaptation by Allen Kuharski of the first novel of Witold Gombrowicz (1904-1969), the enfant terrible of Polish literature and one of the great writers of the 20th century. "A master of verbal burlesque, a connoisseur of psychological blackmail, Gombrowicz is one of the profoundest of late moderns," wrote John Updike, adding that "Ferdydurke, among its centrifugal charms, includes some of the truest and funniest literary satire in print."

This production is part of global celebration of the Gombrowicz centennial. In addition to Ferdydurke, Gombrowicz is renowned for three other novels— Trans-Atlantyk (1953), Pornographia (1960), and Cosmos (1967)— several plays and his monumental three-volume Diary: 1953-56, 1957-61, 1961-67 (1988, 1989, 1993).