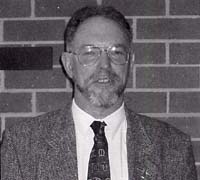 New Zealand: A Land Apart
RICHARD HOLDAWAY
MONDAY, NOVEMBER 1, 2004
Dr. Richard N. Holdaway is a distinguished extinction biologist specializing in the effects of human settlement and invasive species on pristine environments. He holds positions as an Adjunct Senior Fellow in both the School of Biological Sciences and the Department of Geological Sciences, University of Canterbury, and is co-author of the recent best selling book The Lost World of the Moa: Prehistoric Life of New Zealand (Indiana University Press, 2002), described by reviewers as "a landmark work" and "a masterwork that will stand for years."

Holdaway's recent research includes the demonstration that Pacific rats– and therefore their human transporters– arrived in New Zealand a millenium before the arrival of the founding Mori population that first reached New Zealand about 700 years ago. His research on human impacts and the collapse of ecosystems in New Zealand contains important lessons for the husbandry of ecosystems around the world.

We look forward to a fascinating exploration of the evolution and demise of life in the "strangest corner of our planet." Dr. Holdaway's lecture is sponsored by the Robert's Center for Environmental Studies at CMC.