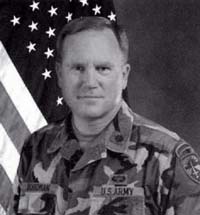 U.S. Operations in Afghanistan: Military Objectives and Broader Strategic Goals
MICHAEL BOARDMAN '74
WEDNESDAY, NOVEMBER 3, 2004
Colonel Michael W. Boardman recently returned from Afghanistan where he served as the lead Military Intelligence Officer for Combined Joint Task Force 180, which is the senior military intelligence officer position in the country. In his Athenaeum talk he will discuss U.S. national objectives in Afghanistan, and address difficulties that the United States, the United Nations, and Coalition operations have had in pursuit of those objectives.

Boardman will be speaking from a personal and strictly unofficial perspective, as his comments are neither approved by nor consistent with official Army or Department of Defense policics.

Boardman was born June 18, 1952 and raised in Spokane, Washington. In 1974 he was awarded a Bachelor of Arts degree in International Relations from Claremont McKenna College and was commissioned a Second Lieutenant in the United States Army. He earned a Doctor of Jurisprudence from Willamette University, Salem, Oregon, in 1977, and a Master of Arts in International Security Studies at the Navy War College in 1997. His military education includes the Military Intelligence Officer Basic and Advanced Courses, the U.S. Army Airborne School, the Special Forces Qualification Course, the Army Command and General Staff College, and the U.S. Navy War College.

Colonel Boardman's visit to campus will provide a wonderful opportunity for Claremont cadets and community to meet with him and to hear about the United States' on-going efforts in Afghanistan.