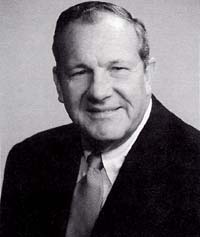 Where is US. Foreign Policy Headed Now That the Election is Over?
MICHAEL ARMACOST
THURSDAY, NOVEMBER 4, 2004
LUNCH, 11:45 a.m., LECTURE, 12:15 p.m.
Rarely has a Presidential election been so heavily dominated by foreign policy concerns as in 2004. Does the outcome herald continuity or major course corrections? What are the prospects for change in American strategy for responding to the challenges posed by Islamic extremists? Heading off nuclear proliferation in Iran and North Korea? Repairing the rift with Europe? Reducing our dependence on Middle East oil? Fostering a Great Power Concert in Asia? These are among the issues that Dr. Armacost will explore.

Michael Armacost has been a Shorenstein Distinguished Fellow in the Asia/ Pacific Research Center at Stanford University since September 2002. He previously held the position of President of The Brookings Institution from October 1995 until June 2002. During his twenty-four years in government, he served as U.S. Ambassador to Japan, U.S. Ambassador to the Philippines, and Under Secretary of State for Political Affairs, and occupied senior policy responsibilities in the National Security Council and Department of Defense. From 1993–1995 he was Distinguished Senior Fellow and Visiting Professor at Stanford University's Asia/Pacific Research Center.

Dr. Armacost was educated at Carleton College, Friedrich Wilhelms University, and Columbia University. He has taught and lectured at Pomona College, Georgetown University, Stanford University, Johns Hopkins University, and International Christian University (Japan). He is the author of three books; a recent book Friends or Rivals? The Insider's Account of U.S.-Japan Relations (1996) assessed the relations between Japan and the United States in the post-Cold War era. Dr. Armacost is the recipient of the President's Distinguished Service Award, the Defense Department's Distinguished Civilian Service Award, and the Secretary of State's Distinguished Service Award.

Armacost is currently the Freeman Foundation Visiting Professor of Asian Affairs and is teaching a course this fall at Claremont McKenna College called Topics in U.S. Relations with Asia. The Keck Center for International and Strategic Studies is honored to sponsor Ambassador Armacost's speech.