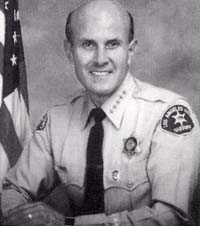 Policing Urban America in the 21st Century
LEE BACA
MONDAY, NOVEMBER 8, 2004
The twenty-first century presents a complex array of problems for law enforcement officials in the nation's major urban centers. This is especially true in metropolitan Los Angeles, one of the most economically, ethnically, politically and culturally diverse regions on the planet. Greater Los Angeles is also the street gang capital of the nation and its size and importance make it a major potential terrorism target.

With a Ph.D. in public administration from the University of Southern California, Los Angeles County Sheriff Leroy Baca emphasizes proactive, progressive problem-solving leadership styles at all organizational levels to develop solutions for urban crime problems such as drug addiction, domestic violence, crowd control, homelessness, gangs, illiteracy, at-risk youth, parenting, and the quality of neighborhood life. With over 15,000 sworn and professional staff, LASD is the nation's largest department— and operates the largest local jail system. LASD provides law enforcement for 51 incorporated cities, 90 unincorporated communities, 9 community colleges, Metropolitan Transit Authority, and Rapid Rail Transit District. LASD also manages the Youth Athletic League Centers after-school programs for at-risk youth that feature academic support, sports, and cultural arts. Sheriff Baca has encouraged education in his own department by developing with five area universities the LASD University, where over 900 members are enrolled in bachelor and master degree programs.

Sheriff Baca is the director of Homeland Security Mutual Aid for California Region I, containing 13 million people. He entered the LASD in 1965 and was re-elected sheriff with over 72 percent of the vote in March 2002. Sheriff Baca's Athenaeum lecture, second in the series Issues in California Criminal Justice, is sponsored by the Rose Institute of State and Local Government.