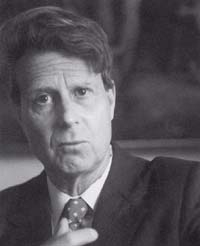 Incompetence, Idiocy, Ideology, Paralysis, and Neglect: The Two Major Parties and the National Security of the U.S.
MARK HELPRIN
ThURSDAY, NOVEMBER 11, 2004
More than three years after 9/11, Mark Helprin suggests that American strategy is shiftless, reactive, irrelevantly grandiose; our war aims undefined; our preparations insufficient; our civil defense neglected. The polity is divided into support for either a hapless and increasingly feckless administration, or an irresolute opposition, preoccupied by its longing to appease America's rivals, critics, and enemies.

With fearless logic and sparkling prose, Mark Helprin criticizes President Bush, the Democratic nominee, and the 9/1 I commission for failing to formulate a clear vision of how to fight terrorism. Mr. Helprin, the renowned novelist, short-story writer, and strategic analyst, argues that President Bush has embarked upon an ill-considered, messianic attempt to transform an entire region. As long as our war aims stray from the disciplined, justifiable, and attainable objective of self-defense, America will be courting failure.

In short, the United States is threatened by unprecedented dangers, warns Helprin, and neither the political parties nor the American people have faced those dangers squarely and rationally.

Mark Helprin is the author of A Soldier of the Great War (1991), Refiner's Fire: The Life and Adventures of Marshall Pearl, a Founding (1990), and most recently, The Pacific and Other Stories (2004). Raised on the Hudson and in the British West Indies, he received degrees from Harvard College and Harvard's Graduate School of Arts and Sciences, and he did postgraduate work at the University of Oxford, Princeton, and Columbia. Helprin served in the British Merchant Navy, the Israeli infantry, and the Israeli Air Force. He is also a contributing editor of The Wall Street Journal and a senior fellow at the Claremont Institute. His lecture is sponsored by the Henry Salvatori Center for the Study of Individual Freedom in the Modern World.