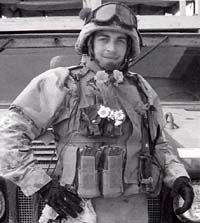 So . . . How was Iraq?
ADAM KOKESH '06
FRIDAY, NOVEMBER 12, 2004
LUNCH 11:45 a.m., LECTURE 12:15 p.m.
We've heard the pundits, the politicians, and the professors discuss the situation in Iraq, but very little has been heard from the soldiers themselves. Sergeant Adam Kokesh of the United States Marine Corps matriculated to CMC in 2001 after deferring college for a year so he could complete his Marine Corps training. He served as a reservist for his first two years of college, bur when the war broke out in Iraq, he volunteered to go. He spent two and a half months stationed at Camp Falluja and 18 days in combat during the siege of Falluja. His appearance at the Athenaeum is to answer the questions we all have about Iraq from the perspective of someone who has been there.

Kokesh is on the Marine Corps' Civil Affairs team, whose mission, "is to minimize interference of the civilian population with military action especially that which would put civilians at risk, and to allow the civilian population to aid military operations when possible." During his time at CMC he studies Psychology, plays for the men's rugby team, and is a member of Civitas.

Sergeant Kokesh will be speaking from a strictly personal perspective and will not be representing the United States Marine Corps, the Department of Defense, or any of its agencies in any way.