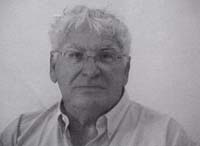 What Will Happen? The Path to Compromise and Reconciliation in the Israeli-Palestinian Conflict
MERON BENVENISTI
WEDNESDAY, NOVEMBER 17, 2004
LUNCH, 11:45 a.m., LECTURE, 12:15 p.m.
Meron Benvenisti makes no claim to divine inspiration, but there is little doubt that he has become one of Israel's most significant secular prophets. As an authority on the Prophets put it, "The situation of being immersed in the prophets' words is one of being exposed to a ceaseless shattering of indifference, and one needs a skull of stone to remain callous to such blows."

Benvenisti specializes in ceaselessly shattering indifference, ours and his own. For a decade and more, Benvenisti has maintained that the two-state solution was dead, leaving only the choice between apartheid and a single binational state. Or, as New York Times columnist, Thomas Friedman, put it, "Meron leaves us with these three options: Will it be a continuation of the shepherds' war between peoples fated to share the same sidewalks, but who want it all. Or will it be the shepherds' pie, divided, slice by slice, not in equal shares but in shares based on the power relationship between the parties—meaning that the Jews will get the lion's portion, the Palestinians the beggar's bowl. Or will it be some third option—the Benvenisti option—call it shepherd's stew, in which Israelis and Palestinians some-how learn to share equally the territory of historic Palestine west of the river Jordan."

It did not begin that way. Son of an early Zionist family, Benvenisti was trained as a geographer and historian. From 1971 to 1978 he served as Deputy Mayor of Jerusalem under Teddy Kollek and administered largely Arab East Jerusalem. In 1982 he established the West Bank Database Project. A frequent contributor to Haaretz, Israel's largest newspaper, Benvenisti is the author of numerous books, including Conflicts and Contradictions (1986), Intimate Enemies: Jews and Arabs in a Shared Land (1995), West Bank Data Project: A Survey of Israeli's Policies (1984), and Sacred Landscape: The Buried History of the Holy Land since 1948 (2000).

Meron Benvenisti's visit to Claremont is sponsored by the Keck Center for International and Strategic Studies and the Dean of the Faculty at CMC.