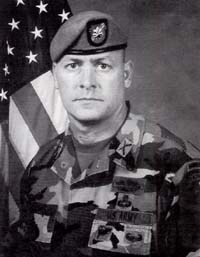 Realities of Fighting the Global War on Terrorism
DAVID HAIGHT
WEDNESDAY, JANUARY 26, 2005
LUNCH 11:45 a.m., LECTURE 12:15 p.m.
Lieutenant Colonel David B. Haight was commissioned an infantry officer and entered active duty in 1986 as a Distinguished Military Graduate of the Brigham Young University ROTC program. His military education includes the Infantry Officer Basic and Advanced courses and the United States Navy Command and Staff College.

Lieutenant Colonel Haight has spent most of his 18 years in uniform in elite Army units such as the 75th Ranger Regiment, 82d Airborne Division, and 25th Infantry Division. He's held key command and staff positions at all levels.

Most recently, Lieutenant Colonel Haight commanded the 2d Battalion, 325th Infantry Regiment ("White Falcons"), 82d Airborne Division that conducted operations in Iraq from March 2003 to February 2004. While in Iraq, Lieutenant Colonel Haight and his 850 soldier task force conducted the full spectrum of military operations that included very specific special operations missions, close quarters urban combat against Fadayeen Saddam forces in the Battle of As Samawah, establishment of local governments in several Iraqi cities, infrastructure and community reconstruction projects, security of key infrastructure nodes and daily raids against known terrorists and insurgents.

Currently, Lieutenant Colonel Haight is commanding the 2d Battalion, 75th Ranger Regiment, at Fort Lewis, Washington. He and his unit are an integral part of America's global war on terrorism.

Lieutenant Colonel Haight's awards and decorations include the Bronze Star Medal and the Meritorious Service Medal with 3 oak leaf clusters. His skill badges include the Combat Infantryman's Badge-2nd Award, Master Parachutist Badge with combat jump star, Ranger Tab, Pathfinder Badge, Air Assault Badge and Thai, Korean, and German foreign parachutist badges.

In his Athenaeum talk Lieutenant Colonel Haight will discuss his experience leading paratroopers and Army Rangers in combat and his units' missions, successes, and challenges in America's Global War on Terrorism.