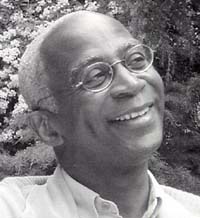 An Encounter with the Writer
DANIEL MAXIMIN
TUESDAY, FEBRUARY 1, 2005
Daniel Maximin, poet, essayist, novelist, and statesman, was born and raised at the base of the volcanic La Soufriere in Saint-Claude (Guadeloupe). Geography is an essential component in his work— the hurricanes, the volcano, the multiple islands and languages of the archipelago. Maximin's novels are those of a poet who develops diverse motifs, composing more like a musician than a writer. He resists traditional structures, composing polyphonic narratives that register several voices and several points of view. Many have commented that his first novel, L'Isole soleil (1981), has the feeling of a jazz improvisation. Maximin reminds us that solidarity and music are the weapons of resistance.

His most well-known works include the romantic trilogy -- L'Isole soleil (1981); Soufrieres (1987); L'Ile et une nuit (1996) -- which many have called a true lovesong to the West-Indian culture. A Chevalier of the Legion of Honour (1993); Chevalier of Arts and Letters (1995); recipient of the Prix Arc-en-ciel for his poetry collection, L'Invention des Desirades (2000), and most recently, recipient of the coveted literature prize (Prix Maurice Genevoix) of the Academie Franeaise for his autobiographical novel, Tu, c'est l'enfance (2004), Mamimin is one of the major writers that the French Antilles has produced.

After completing his studies in letters and social sciences at the Sorbonne in Paris, Maximin served as lecturer at the Institute of Social Studies and a professor literature and anthropology at Orly. In 1997 he was appointed as the president of the interministerial mission for the national celebration of the 150th anniversary of the abolition of slavery in 1848. He is currently serving as Counsel of the Arts and the Culture Mission with the Ministry for National Education.

Daniel Maximin's lecture is in French, with translation by CMC Professor June Miyasaki. His visit to Claremont is planned in collaboration with the modern language departments of CMC, Pitzer, and Scripps.