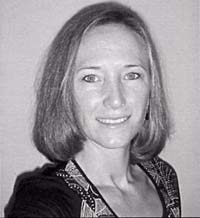 It 's All a Matter of Perspective- from Education, to Economics, to Human Rights
HEATHER CALLENDER POTTERS '87
MONDAY, FEBRUARY 7, 2005
Heather Callender Potters has been at the forefront of investment in the emerging markets of Eastern Europe for the last 15 years. She is a founder and director of Baring Communications Equity (Emerging Europe) LTD, a $75 million media and communications private equity fund headquartered in Poland.

Potters moved to Poland in 1991 after receiving a Master in Business Administration from the Wharton School of the University of Pennsylvania. She worked for the Polish American Enterprise Fund, which eventually became Enterprise Investors (a private equity fund manager, managing $350 million), for six years before founding BCEE, LTD. She currently serves on the supervisory board for Computerland Poland, S.A., historically the best performing stock on the Warsaw Stock Exchange.

Heather Potters graduated from Claremont McKenna College in 1987 with a degree in International Management. She has maintained her ties to CMC and currently is an Advisory Board member for the Center of the Study of the Holocaust, Genocide and Human Rights. Last spring she served as an escort in Warsaw, Poland, for the Center's academic travel group. She has also remained heavily involved in CMC's Alumni organization, helping to organize Euromeet 2003 in Warsaw for CMC alumni currently residing in Europe. Before moving to Poland, Potters had a brief foray into politics working for U.S. Senator William Armstrong from Colorado.

Potters currently resides in Warsaw with her husband and two children. In her spare time she enjoys flying and is a licensed pilot.