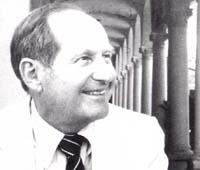 The Southern California Indians: Brutalizing or Preserving?
ANDREW ROLLE
WEDNESDAY, FEBRUARY 16, 2005
Formerly scorned, the Southern California natives have experienced great lifestyle changes. From primitive dwellings in brush-covered "Wikieups" toward today's gambling casinos, theirs has been a giant leap into the present. In his Athenaeum lecture, Dr. Rolle will interpret the meaning of such great changes.

Rolle, a distinguished scholar of California history, is uniquely qualified to address this topic. A professor emeritus of American history at Occidental College and presently a Research Scholar at the Huntington Library, Dr. Rolle has published some twenty books, among them California: A History (1963), now in its sixth edition. Rolle received his doctorate from the University of California at Los Angeles. He has been decorated as Cavaliere: Ordine Merito by the Italian government, and has won the Commonwealth Award for non-fiction.

Professor Rolle's lecture is first in the series Native Americans in the 21st Century sponsored by the Rose Institute for State and Local Government at CMC.