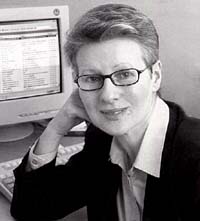 Is Russia Returning to Dictatorship?
LILIA SHEVTSOVA
MONDAY, FEBRUARY 28, 2005
Russia today under President Putin enters a turbulent period in its domestic political development and is in the process or reshaping its international role. On the one hand, Russia continues to be the U.S. partner in the antiterrorist struggle and tries to maintain constructive relations with other Western powers. On the other, Russia's leader openly turns to authoritarian means to consolidate power. Professor Lilia Shevtsova will discuss whether Putin's authoritarian modernization will succeed or whether it will plunge Russia into a new crisis. Her address will examine what Russian domestic developments mean for international relations in general and for the U.S.-Russian partnership in particular.

Lilia Shevtsova, professor of political science at Moscow State Institute for International Relations and Senior Associate at the Carnegie Endowment for International Peace in Moscow, comes to Claremont from Russia in order to analyze recent developments in Russian politics. Shevtsova has written over 400 articles in the Russian and Western press and has authored and co-authored numerous books, including Socialism and Catholicism; Inside the Russian Enigma; Democratization in Russia; Yeltsin's Russia: Myths and Reality (1999); Regime of Boris Yeltsin; Political Russia; Civil-Military Relations and Democracy; New Russia; Europe by Nature; Political Parties in Russia; Political Leadership: From Gorbachev to Putin; State Beyond Crisis: Post-Colonial Africa and Post-Soviet Eurasia in Comparative Perspective; Krieg in Kosovo.

In addition to her extensive teaching and her prolific scholarship, Shevtsova has served on many important commissions in Russia and internationally. Until the early nineties, Shevtsova worked as a department head and then the First Deputy Director of the Institute for International Economic and Political Studies at the Academy of Science. From 1991 to 1992, Shevtsova was member of the Commission investigating the activity of the Communist party of the USSR. In 1997–2002 she was chair of the Program on Eurasia and Eastern Europe of SSRC (New York). In 1999–2002 she was member of the Social Council "In Defense of Freedom of Press" headed by Mikhail Gorbachev. Since 1993 she's been member of editorial boards of the journals Polls, Pro at Contra, Journal of Democracy, Demokratizacija, Megapolis, Moscow News. She is also currently a member of Women in International Security Advising Board, and a member of the Executive Council of Russian Political Association.

Lilia Shevtsova's lecture is sponsored by The Keck Center for International and Strategic Studies.