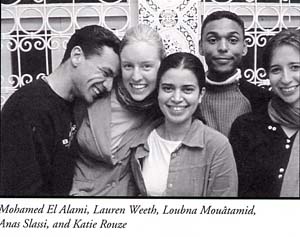 A Bridge to Islam: A Documentary Film Directed by Jean-Louis Boudart
LAUREN WEETH '05
TUESDAY, MARCH 1, 2005
Chaque connaissance est une naissance. Victor Hugo said that every introduction is a new birth. In January 2004, nine students traveled across the world to test the truth of this adage. Lauren Weeth (CMC '05), Katie Rouze (Scripps '05), Karen Chu (CMC '05), and Suzanna Rempel (Scripps '05) were among the inaugural class of a new study abroad program, aimed at improving cross-cultural understanding between America, France, and the Muslim world. At its inception, the program sought open-minded juniors to begin a serious and honest self-examination of how their own cultural biases prevented them from opening up to other cultures. Even before the first students arrived in Marseille, the French national media took an interest in the unique nature of the program, and soon a national syndicate had arranged to make a documentary of the experience—for which Weeth and Rouze were chosen as the primary subjects.

The film follows these students as they engage in intensive study of North African history, theology, and cultural studies through the American University Center of Provence. In France, they tackle internships at organizations serving Marseille's North African population, learn Arabic and belly dancing, and talk with important members of the city's Arab-Muslim community. With candid guidance from renowned Islam expert Bruno Etienne, and a pivotal two-week homestay in Fez, Morocco, the students confront their prior ignorance in order to engage with a culture that post-9/1 1 America seems increasingly willing to paint as "the other."

Lauren Weeth will introduce the film and lead the discussion following its conclusion.