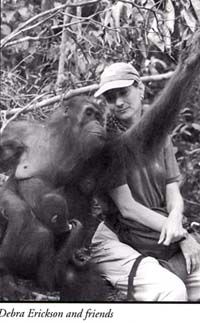 Saving the Orangutans of Borneo
DEBRA ERICKSON
WEDNESDAY, MARCH 2, 2005
There are so many words that can describe Borneo, including verdant, vast, and vibrant. It is the world's third largest island with an extremely diverse flora and fauna that includes over 380 species of birds, 222 species of mammals, and over 3,000 species of trees. Borneo is one of 17,000 islands that comprise the country of Indonesia and it is one of two places on the planet where the orangutan lives.

Unfortunately, as is the case with many other tropical paradises, Borneo's forests are rapidly disappearing and the orangutans with it. More than 80% of the forests have already been logged. If the rate of destruction continues at its current clip, the rainforests and its orangutan residents could vanish within the next 10 years.

Scripps College graduate Debra Erickson will present an overview of the work that Orangutan Foundation International (OFI) is conducting in Central Borneo to protect the orangutan and its dwindling habitat. Erickson works with Dr. Birute Mary Galdikas, the first scientist to conduct a comprehensive study of the orangutan in the wild. Erickson is Conservation Director of OFI and has previously worked for ZILOG, Inc., Anheuser-Busch Companies, SeaWorld of California, SeaWorld of Florida. the San Diego Zoo, the San Diego Wild Animal Park, and Busch Entertainment Corporation in the areas of product development, marketing, public relations, education, and conservation.

Formerly a student of professor of biology Dan Guthrie of the Joint Science Program (CMC/Scripps/Pitzer) Debra Erickson's Athenaeum presentation is sponsored by the Roberts Environmental Center at Claremont McKenna College.