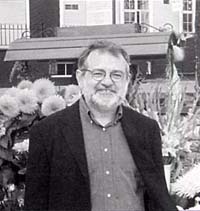 Europe- The Vulnerable Giant
ILYA PRIZEL
TUESDAY, FEBRUARY 22, 2005
The recent expansion of the European Union to twenty-five countries, the relative decline of the United States Dollar vis-a-vis the Euro, and the mere fact that the European Union has surpassed the United States in terms of population as well as the aggregate Gross Domestic Product (GDP) has spurred a series of new books arguing that Europe is destined to become the new superpower of the coming century, supplementing if not supplanting the United States on the world stage. How should the United States gauge and respond to the ascendance of the new expanded Europe?

Professor Ilya Prizel in his address entitled "Europe- The Vulnerable Giant" breaks with the standard evaluations and reinterprets common assessments of the place of Europe in the international system. Prizel will question the force of Europe's "re-emergence" in the international arena at the end of the Cold War and in the twenty-first century. In his address. Prizel will examine the slew of both domestic and external structural challenges that Europe faces. Prizel will argue that Europe is not prepared to meet these challenges and, given its emerging political structures, these burdens ultimately will lead to Europe's accelerating decline.

Ilya Prizel is professor of political science and history at the University of Pittsburgh, and the editor of the leading journal, East European Politics and Society. He is one of the country's foremost scholars on Eastern Europe. He has published numerous articles and books, including National Identity and Foreign Policy: Nationalism and Leadership in Poland, Russia and Ukraine (1998); Postcommunist Eastern Europe: Crisis and Reform (1992); Ethnicity and Foreign Relations: The Case of Ukraine (1993); and Latin America through Soviet Eyes: The Evolution of Soviet Perceptions during the Brezhnev Era 1964-1982 (1990).

Ilya Prizel's lecture is sponsored by The Keck Center for International and Strategic Studies.