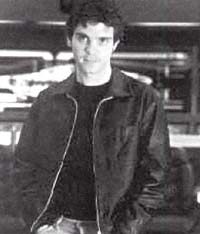 Confessions of a Star Trek Writer
BRANNON BRAGA
WEDNESDAY, FEBRUARY 23, 2005
It's not just anyone who can tell Captain Jean Luc Picard of the U.S.S. Enterprise or Captain Kathryn Janeway of the U.S.S. Voyager what to do and say. But for the last 15 years, that's exactly what Brannon Braga has been doing. As a writer, producer, and creator with Star Trek, Brannon Braga has put words in the mouths of Starfleet officers, Klingons, and the Borg queen. All in all, he has been credited with writing more than 100 episodes for the various Star Trek series, including the highly regarded series finale of
Star Next: The Next Generation
, for which he won a Hugo Award for excellence in Science Fiction Writing.
After first working with Star Trek: The Next Generation, Braga moved to Star Trek: Voyager when the series premiered in 1995. Currently, Braga serves as co-creator and executive producer of the UPN television series Star Trek: Enterprise. His work with Trek has not been limited to the television shows — he also co-wrote two of the feature films, Star Trek: Generations (1994) and Star Trek: First Contact (1996). First Contact, which earned close to $150 million worldwide during its theatrical release, is the highest grossing of the 10 Trek movies. Braga also received a story credit for his work on Mission: Impossible 2 (2000). He is currently in the process of developing a new television series for Paramount.
A native of Bozeman, Montana, Braga attended Kent State University before studying Theater Arts and Filmmaking at the University of California, Santa Cruz. In 1990, he received a writing internship from the Academy of Television Arts and Sciences, which led to his writing and producing position on Star Trek: The Next Generation.
His talk is sponsored by the Gould Center as part of the series Philosophy through Science Fiction.