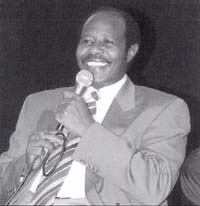 Hotel Rwanda: A Lesson Yet to Be Learned
PAUL RUSESABAGINA
MONDAY, FEBRUARY 28, 2005
Lunch 11:45 a.m., Lecture 12:15 p.m.
Ten years ago, the country of Rwanda descended into madness. Over the course of 100 days, almost one million people were killed as the majority Hutus set out with clubs, guns, and machetes to exterminate their Tutsi countrymen, while the rest of the world turned away.

Paul Rusesabagina risked his life and lives of his family to turn the Rwandan hotel he managed into a sanctuary. Driven by compassion and generosity of spirit, and armed with nothing but some convincing words, Rusesabagina saved the lives of 1,268 people, most of which were children, from being savagely executed.

Rusesabagina was born June 15, 1954 to a farming family and attended 13 years of primary and secondary at a Seventh Day Adventist missionary school. In 1984 he enrolled in the Kenya Utalii College in Nairobi in the Hotel Management course, which he completed in 1984 in Switzerland. He was employed by Sabena Hotels and promoted to general manager. Rusesabagina was at the Mille Collines Hotel in Kigali for almost the entire span of the genocide. In 1996 he went to Belgium as a refugee. From that time to date, he has worked as a businessman and owns a transport company. He is also still involved in charitable organizaions aiding survivors of the Rwandan tragedy and is in the process of setting up a foundation in his name for further assistance.

Paul Rusesabagina served as special consultant to United Artists and Lion's Gate Films' production of this year's award-winning film, Hotel Rwanda (2004). His visit to CMC is jointly sponsored by the Athenaeum and the Center for the Study of the Holocaust, Genocide, and Human Rights.

The lunch is for CMC persons only, the lecture is open to all with overflow seating in McKenna Auditorium.