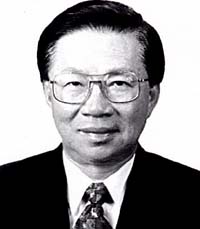 The Cross-Straits Relations: Recent Developments and Future Prospects
HUNG-MAO TIEN
WEDNESDAY, MARCH 23, 2005
Potential conflict in the Taiwan Straits continues to draw widespread attention. In 1996 there was a military crisis that compelled the United States to dispatch two aircraft carrier battle-groups to the area. Since then there have been occasions of tension. Many analysts regard the Taiwan Straits to be one of the hot-spots in today's world.

Dr. Hung-mao Tien will present an analysis on the current state of Taiwan-China relations across the Taiwan Straits. He will examine political, economic and military features that affect the relationship. As China is becoming a major economic and military power, and with rising political influence, many in Washington D.C. are anxious to see that the cross-Straits remains peaceful and stable. But will it be?

Hung-mao Tien has been Taiwan's Minister of Foreign Affairs and its Ambassador to the United Kingdom in recent years under the current administration of President Chen Shui-bian. Prior to that, he served as a senior policy advisor to former President Lee Teng-hui. He also served at the National Unification Council that dealt with Taiwan policy toward China.

Hung-mao Tien received his Ph.D. in Political Science from the University of Wisconsin, and taught for many years in the United States until the early 1990s when he returned to Taiwan, his homeland. He is author, editor, and co-editor of numerous publications on subjects related to Taiwan politics, Chinese politics, the cross-Strait relations, security in Asia, and democracy, among others. He has been an invited lecturer at Harvard, Stanford, U.C. Berkeley, Oxford and Cambridge. He also has spoken at the Council on Foreign Relations in New York and the French Institute of International Relations in Paris.

The Keck Center for International and Strategic Studies is pleased to host The Honorable Hung-mao Tien's visit to CMC as a Freeman Foundation Visiting Professor.