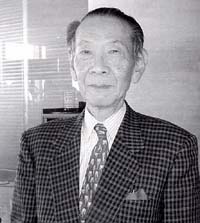 Japan-U.S. Relations— Strong or Fragile?
TAKAKAZU KURIYAMA
WEDNESDAY, APRIL 6, 2005
According to a recent poll, majority of both the Japanese and Americans think that Japan-U.S. relations are in good shape. On the other hand, there are some troubling signs— increasing trends of mistrust on both sides. In the age of globalization, America and Japan both face new challenges: for America, to maintain its global leadership without losing its soft power; for Japan, to assume a major international role with its graying and shrinking population. These are among the issues that Takakazu Kuriyama will explore in his Athenaeum lecture.

Takakazu Kuriyama studied law at the University of Tokyo, passed the foreign service examination in 1953, and entered the Japanese foreign service the following year. He spent two years (1954–56) in the United States under the foreign service training program (Lawrence College and Amherst College). After serving in various posts at home and overseas, he became Ambassador to Malaysia (1985–87), Deputy Foreign Minister (1987–89), Vice Minister for Foreign Affairs (1989–91), and Ambassador to the U.S. (1992–95). Ambassador Kuriyama retired from the foreign service in 1996 and currently holds the title of Advisor to the Ministry of Foreign Affairs. He also taught at Waseda University (1997–2002) and the International Christian University (1999–2002) as visiting professor.

The Keck Center for International and Strategic Studies is honored to host Ambassador Kuriyama's visit to CMC as a Freeman Foundation Visiting Professor.