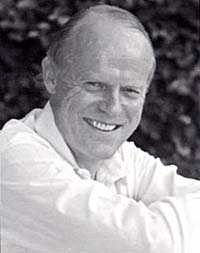 Media, Religion, and the 2004 Election
DAVID AIKMAN
TUESDAY, APRIL 5, 2005
David Aikman is an award-winning print and broadcast journalist, author, and a foreign policy consultant based in the Washington, D.C.-area. Aikman was born in England and educated at Oxford University in England (B.A. with honors in Russian and French). He later came to the U.S. and earned an M.A. in Central Asian languages and a Ph.D. in Russian and Chinese history from the University of Washington in Seattle. He is a U.S. citizen.

Aikman spent 23 years reporting for Time magazine and has reported from five continents and more than 55 countries. He wrote three consecutive Time Man of the Year cover stories and has interviewed Nobel laureates and world leaders including Mother Teresa, Manuel Noriega, Boris Yeltsin, Aleksandr Solzhenitsyn, and Billy Graham.

Aikman joined Time in 1971 in the New York Bureau, then reported from Washington before becoming correspondent in Hong Kong (1972-1976); bureau chief in Eastern Europe (1977-1978); staff writer in New York (1978-1980); bureau chief in Jerusalem (1980-1982) and in Beijing (1982-1985); then State Department Correspondent and Senior Correspondent in Washington during 1985-1994. He covered the war in Indochina, dissent in Communist Eastern Europe, and was an eyewitness to the Tienanmen Massacre in China in 1989. He has made additional television appearances on CNN, CBC, FOX News, NBC's Today Show, the BBC, C-Span, and ABC's Nightline.

Aikman has recently authored two ground-breaking books, A Man of Faith: The Spiritual Journey of George W. Bush (2004) and Jesus in Beijing: How Christianity is Transforming China and Changing the Global Balance of Power (2003). A six-part documentary based on A Man of Faith is due to be broadcast on PBS.